Source: WSN
Hazard Alert: Jammed Crusher Jaws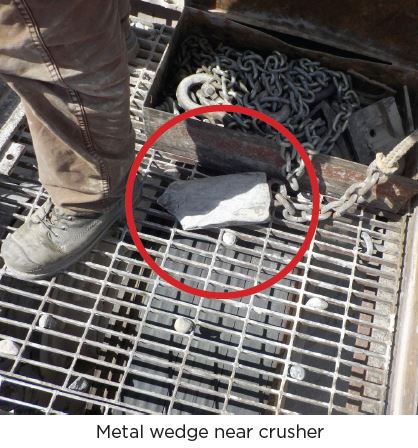 Hazard Alert: Jammed Crusher Jaws - please download, print, and share
During a visit to a surface mining plant a Ministry of Labour inspector identified metal wedges in close proximity to a rock crusher. It was revealed that the operation was using the steel wedges to assist with jams in the crusher. As per the incident mentioned below, using metal wedges in this application could result in a serious injury or fatality.
What happened?
A worker at a quarry was seriously injured when he was hit in the head by a wedge he was using to dislodge material jammed in a rock crusher.
The worker was lowering a hard metal wedge on a long chain into the idling crusher. He was trying to position the wedge between the jaws and the jammed rock so the wedge could work its way through and break the rock.
The metal wedge was ejected from the crusher and struck the worker in the head.
Using hard metal wedges in a rock crusher is a practice that could result in serious injuries or fatalities.
How could the incident have been prevented?
Oversized pieces are always present at crusher installations, so adequate equipment and procedures to handle these pieces should be set up ahead of time at every installation.
Place oversize pieces to the side and handle separately using approved methods, such as a rockbreaker or explosives.
Install a grid that will not allow oversize pieces into the crusher. Remove the oversized rock from the grid and break using other approved methods.
Loader bucket teeth should never be used as crusher wedges — the hard metal may be ejected with force from the crusher.
Check with the equipment manufacturer or supplier. If the jaw crusher is adjustable, follow proper lock-out procedures and re-adjust the openings to allow material to sink into the jaws.
Resources
Ground Support Reference Manual
Quality Control Program for Ground Control - template
Ground Control Assessment Services
Hazard Alert: Fall of ground near scissor lift in underground mine
Mining common core training for first-line supervisors
Contact your WSN Health and Safety Specialist for more information