Source: WSN
Monday, February 04, 2013
What happened?
An employee at a member company was operating a wood processor to convert logs into firewood when a log came sideways onto the trough and out of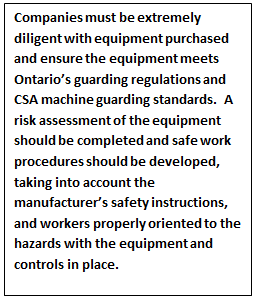 alignment for the saw.  The employee  opened the cab's side window and reached around the front  of the machine, in an attempt to straighten the log. The employee's fingers and thumb were severed when his hand came into contact with the blade.
Why did it happen?
The design of the processor was such that it was possible to come in contact with the saw, by reaching through the open window towards the trough of the machine in front of the operator's cab.  The processor was not properly guarded. Companies must be extremely diligent with equipment purchased as it may not meet Ontario's guarding regulations and CSA machine guarding standards.  
How could it be prevented?

Companies must be aware the onus is on the employer to ensure the equipment is properly guarded, regardless of assurances from manufacturers. It is necessary for employers to develop safe operating procedures for equipment and companies should have a clear lockout and guarding program in place which:
• Conducts risk assessments on equipment before it is used on site, and if necessary implements physical controls such as additional guarding which meet CSA standards, interlock guards or other safety devices to protect workers.
• Identifies and educates workers on hazardous energy sources
• Informs workers of existing and new controls and provides training for lockout procedures
• Provides consistent monitoring of the lockout process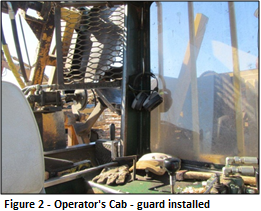 In the case of the mentioned member company, the equipment required an after-market solution. In this case, the employer fabricated and installed a guard outside of the operator's cab window, which prevented access to the saw.  The employer also developed a safe work procedure which outlines the required safe work practices when re-aligning logs on the saw in-feed trough.  If the saw became jammed or when conducting maintenance the equipment must be shut down and locked out.