Source: WorkSafeBC
Monday, December 02, 2013
Worker died from massive crush injuries
Hazard Alert: Work safely around guardrails - free downloadable pdf - please print and post in workplace and encourage discussion.
What happened?
A machine tender was found pinned in the ingoing nip point of a press. He died from massive crush injuries. 
Why did it happen?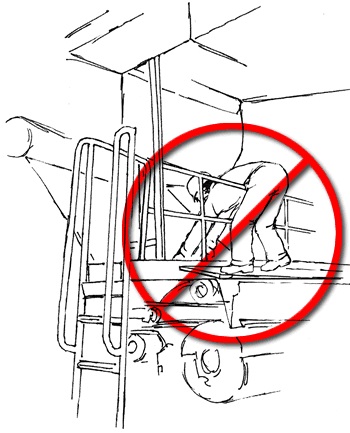 There was no witness to this incident. At the time of the incident the paper machine was about to start up following a paper break. The presses were still running and the paper was being prepared for startup. Guardrails were in place around the paper machine. It is unclear how the victim fell into the nip point of the press. He may have been reaching into or over top of one of the guardrails.
How could it have been prevented?
Provide written safe work procedures to each worker and do not rely exclusively on the "buddy system" to train workers.

Review job safety breakdown for each worker on a regular basis and update any deficiencies.

Reinforce guardrail safety requirements and monitor to ensure that all workers follow these requirements.
This information is part of an archival collection from Workers' Compensation Board of British Columbia.