Both managers and workers worry about dangers of machinery and equipment
Infographic: Top 10 Health and Safety Risks in Pulp, Newsprint, and Specialty Paper Sector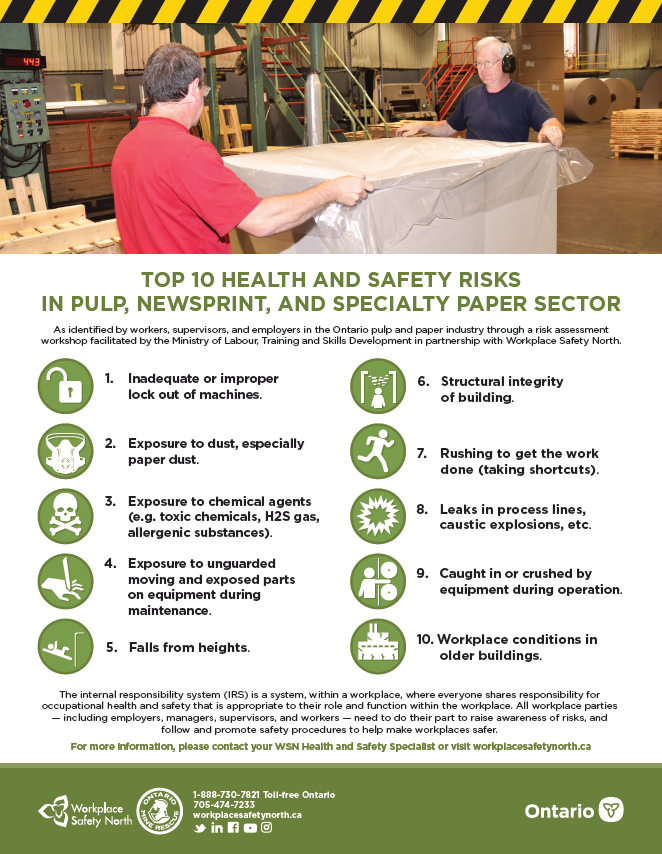 A group of industry experts has determined the top health and safety risk for workers in the Ontario pulp and paper sector is the improper or inadequate lock out of machinery. Considered an essential industry, the pulp and paper sector is made up of companies that produce pulp, newsprint, and specialty paper, including folding cartons and corrugated boxes.
Lock out is a safety procedure used by industry to ensure dangerous machines are properly shut off and not able to be started up during maintenance or repair. Locking out machinery means to physically neutralize all energy in a piece of equipment before beginning any maintenance or repair work. 
This could involve using a physical lock to de-energize and prevent a machine from being accidentally switched on during repairs or maintenance; it could also mean adding blocks to hydraulic equipment or chocks to mobile equipment wheels to prevent any inadvertent movement.
Once all power sources are locked, a tag may be placed on the lock identifying the worker who placed it. The worker holds the key, ensuring that only they can remove the lock and start the machine. This prevents accidental startup of a machine while it is in a hazardous state or while a worker is in direct contact with it. Lock out-tag out is used across industries as a safe method of working on hazardous equipment and is mandated by law in Ontario.
Last November 2019, a volunteer group of subject matter experts met face-to-face for a pulp and paper workplace risk assessment at Workplace Safety North (WSN) headquarters in North Bay, Ontario. The group of 16 representatives from management, labour, government, and not-for-profit organizations, was facilitated by Sujoy Dey, Ph.D., Corporate Risk Officer at the Ministry of Labour, Training and Skills Development (MLTSD).
In advance of the workshop, each industry expert submitted their top health and safety concerns, and during the one-day workshop, all 80 identified risks were reviewed and discussed by the group.
When it came time for the final vote on the top risks, only actual workers and managers in the pulp and paper industry were allowed to vote. In order to ensure an open and fair voting process, handheld electronic devices recorded votes anonymously. Both labour and management agreed: the top danger pulp and paper workers face is improper or inadequate lock out of machinery.
"As they identified specific conditions and situations that could result in injury or illness, we asked the group, 'What keeps you up at night?'" says Dr. Dey, "And both workers and managers agreed: the number one risk in the pulp and paper sector is deficient machine lock out." 
Top 10 health and safety risks in pulp and paper sector
Risky business for Ontario pulp, newsprint, and specialty paper workers
 
1. Inadequate or improper lock out of machines
2. Exposure to dust, especially paper dust
3. Exposure to chemical agents (e.g. toxic chemicals, H2S gas, allergenic substances)
4. Exposure to unguarded moving and exposed parts on equipment during maintenance
5. Falls from heights 
6. Structural integrity of building; ceiling falling
7. Rushing to get the work done (taking shortcuts)
8. Maintenance of process lines (i.e. leaks, caustic explosions, etc.)
9. Caught in or crushed by equipment during operation
10. Workplace conditions
Workplace injury statistics show that machine injury during maintenance and repair is high-risk  Contributing factors to deficient lock out include inadequate policies, training, supervision, fatigue and misunderstanding. 
"The Ontario pulp and paper sector has more than 50,000 employees, and this risk assessment helps focus attention and raise awareness of the top risks faced by those workers," says Tom Welton, WSN Director Prevention Services and Education Programs. 
"The risk assessment workshop provided direct feedback from industry experts about their perception of the workplace. By using leading rather than lagging indicators, Workplace Safety North can help employers be more proactive in their duty to protect workers," says Welton.
Occupational disease
Two of the top five risks involve occupational illness due to exposure to dust and chemicals in pulp and paper workplaces. The effects of occupational illness tend to develop more slowly, and the experts cite their observations and experience as evidence, including serious injuries due to acids used in the workplace.
Guarding and maintenance
Due to the use of large pieces of machinery by this industry, there is a high risk of being exposed to moving machine parts or being caught in and crushed by machinery. Maintenance of buildings and facilities is also a concern with aging pipes and leaky ceilings.
The risk assessment is the first of its kind for the industry, and an infographic that highlights the top risks has been created to increase awareness and prevention. 
Related
Infographic: Top 10 Health and Safety Risks for Pulp, Newsprint and Specialty Paper Sector
Pulp and Paper Sector Risk Assessment Results, November 2019 – Ministry of Labour, Training and Skills Development 
Pulp, Newsprint, and Specialty Paper Health and Safety Statistics Ontario – Workplace Safety North