Provincial risk assessment workshop results in top 10 risks poster
Top 10 Health and Safety Risks in Logging Operations
Both logging industry workers and managers say that worrying about dangers of distracted driving – a combination of increased cell phone usage, vehicle speeds, and mobile equipment – is something that keeps them up at night.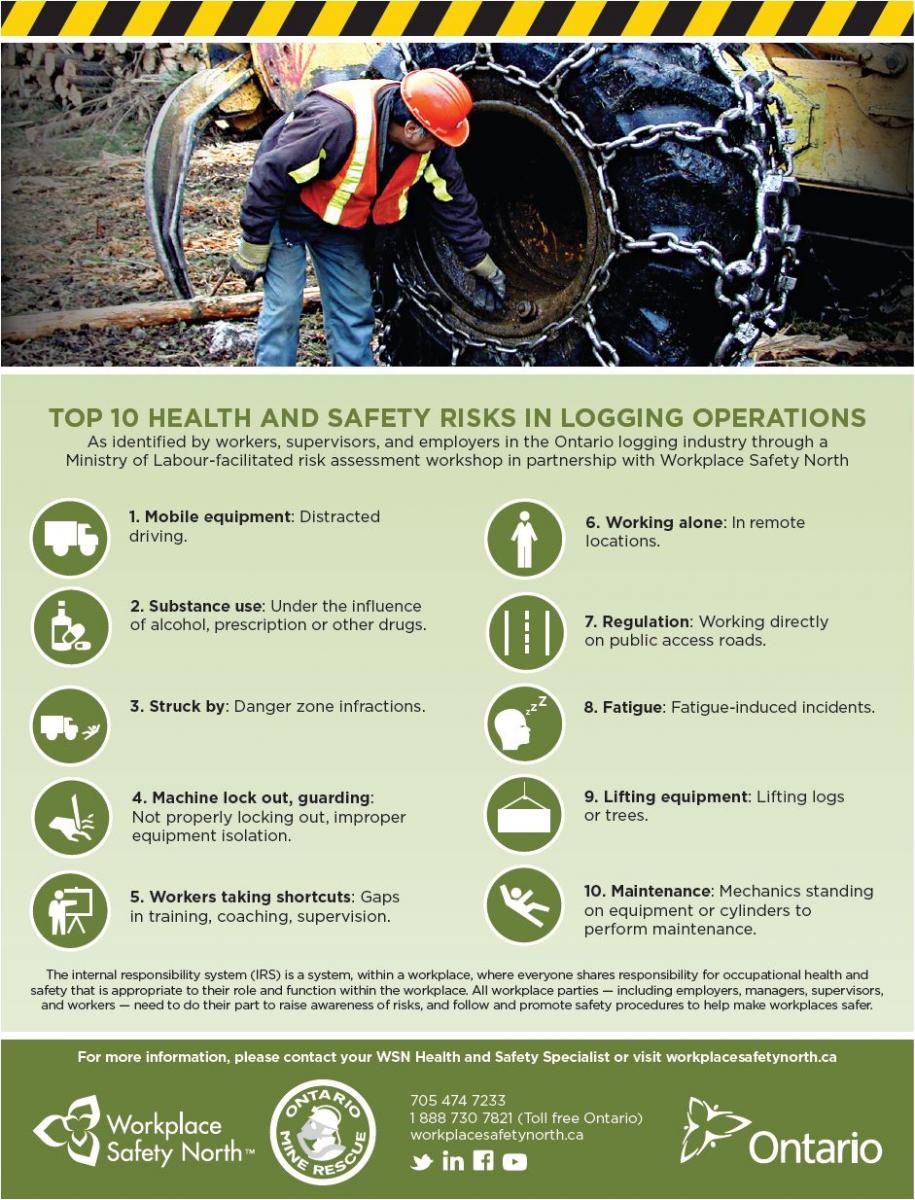 Last November 2017, in order to harness the collective wisdom of the logging industry, a volunteer group of subject matter experts met face-to-face for a risk assessment workshop at Workplace Safety North (WSN) headquarters in North Bay. The group of 16 representatives from management, labour, government, and not-for-profit organizations, was facilitated by Sujoy Dey, Ph.D., Corporate Risk Officer at the Ministry of Labour (MOL).
In advance of the workshop, each person submitted top health and safety concerns, so during the one-day workshop, all 83 identified risks were reviewed and discussed by the group. When it came time for the final vote on the top risks, only the five workers and four managers from the logging industry were allowed to vote. In order to ensure an open and fair voting process, handheld electronic devices recorded votes anonymously. Both labour and management agreed: the top dangers logging workers face include distracted driving, substance use, and machinery danger zones.
Top 10 health and safety risks in logging operations
As identified by logging workers and employers
1. Mobile equipment: Distracted driving.
2. Substance use: Under the influence of alcohol, prescription or other drugs.
3. 'Struck by': Machinery danger zone infractions.
4. Machine lock out, guarding: Not properly locking out, improper equipment isolation.
5. Workers taking shortcuts: Gaps in training, coaching, supervision.
6. Working alone: In remote locations.
7. Regulation: Working directly on public access roads.
8. Fatigue: Fatigue-induced incidents.
9. Lifting equipment: Lifting logs or trees.
10. Maintenance: Mechanics standing on equipment or cylinders to perform maintenance.
"Distracted driving can have serious unintended adverse effects on the safety and well-being of the driver, other workers, and the community in general," says Tom Welton, WSN Director of General Prevention Services, "and in the case of logging operations, distracted driving while using heavy equipment has a high potential of serious – if not fatal – injury to workers.
"The risk assessment workshop provided direct feedback from industry experts about their perception of the workplace, and by using these indicators, WSN can be more proactive in providing health and safety services to industry." 
The results of the workshop were reviewed by the WSN advisory committee for forestry, paper, printing, and converting industries, which is moving toward the next step: a detailed analysis of the root causes of distracted driving in the workplace, and the creation of an effective prevention plan.  
Related
Distracted driving top health and safety risk in Ontario logging operations
Poster: Top 10 causes of distracted driving in Ontario logging operations
Technical paper: Root cause analysis of distracted driving in Ontario logging operations
Resources regarding motor vehicle incidents, includes Safe Driving Program, Traffic Management Plan, Leading Practices: Traffic Management Plan, Safety Meeting Talk.
Is your workplace drug and alcohol policy up to date? – Workplace Safety North
Statistical Infographic: Health and Safety Snapshot for Ontario Logging Industry - WSN
Logging Sector Risk Assessment Results, November 21, 2017 – Ministry of Labour