Deadline and topic flexibility; information on how to file WSIB COVID-19 claims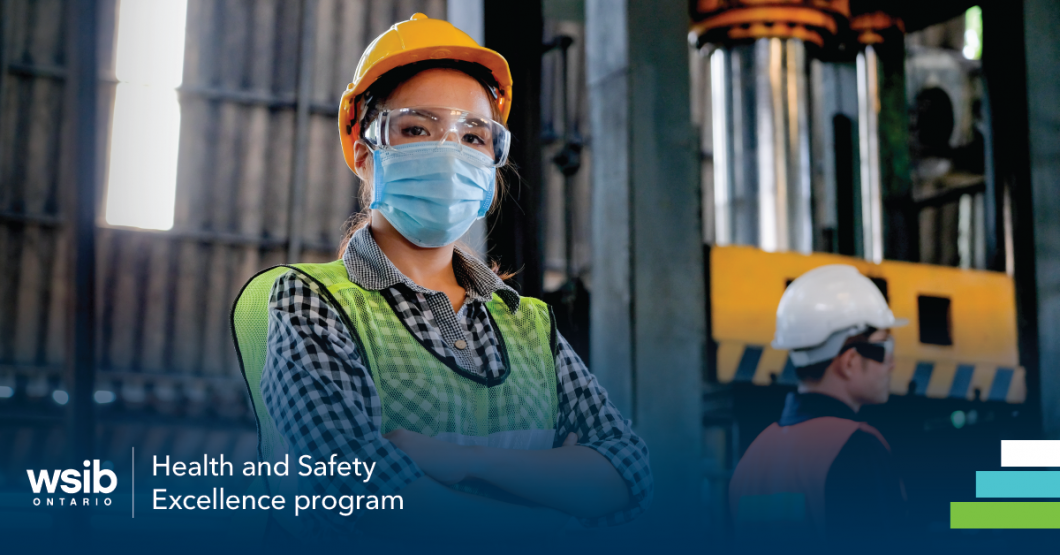 Keeping your team safe and healthy at work is good for business. The Workplace Safety and Insurance Board (WSIB) health and safety program integrates the strengths of their three previous incentive programs (Safety Groups, Small Business Health and Safety Program and Workwell) and restructured into one program, the Health and Safety Excellence program. 
The Health and Safety Excellence program provides a clear roadmap for you to improve safety in your workplace, whether you're just getting started or want to improve systems and processes you already have in place.
"Businesses that are successful in the program earn rebates and other non-financial recognition for their investment in health and safety," says Rose Bedard, Prevention Services Assistant – Health and Safety Excellence program at Workplace Safety North (WSN), an approved program provider. Registration for the new program is open for the 2020 program year.
The rebate structure for the Excellence program is based on a business's ability to impact their injury rate, in line with the new WSIB premium rate-setting model. The goal of the program is to reduce injuries by advancing your health and safety program, improving workplace culture, and show that health and safety is living and breathing in your workplace.
The program connects businesses of all sizes with Workplace Safety North or other WSIB-approved providers to help you develop a program that is suitable for your business. 
Deadline and topic flexibility
During the pandemic, the Excellence program is flexible and tailored to support businesses.
Firms may select action plan topics that help address the impact of COVID-19.
To assist firms currently in the program or just joining, deadline extensions have been initiated –- the 12-month timeline to complete topics and submit validation evidence has been extended to 15 months to help businesses juggle multiple priorities.
WSN is here to support your development and will review your action plan, evidence stories and help guide you through the program. We look forward to supporting your success in the program.
Learn more about how WSIB is helping businesses stay pandemic ready and safe.
Excellence program benefits include:
Pandemic readiness materials, to help businesses meet the challenges of operating safely during a pandemic
Support and guidance from an experienced provider like Workplace Safety North
Reduced risk of hazards and a better health and safety culture in your workplace
Rebates on premiums and money saved by improving your safety experience
Recognition to show employees, customers, and investors your commitment to health and safety
Opportunities to network and share best practices with other like-minded businesses
The new health and safety program helps make Ontario a healthier and safer place to work.
How to file WSIB COVID-19 claims 
While the nature of some people's work may put them at greater risk of contracting the virus, for example those treating someone with COVID-19, any claims received by the WSIB is adjudicated on a case-by-case basis, taking into consideration the facts and circumstances.
If you contracted COVID-19 while at work (you have a diagnosis or symptoms of COVID-19), you may file a claim to determine if you are eligible for WSIB coverage.  
If you believe you were exposed to COVID-19 while at work, but you are not ill at this time (you do not have a diagnosis or symptoms of COVID-19), please do not file a claim. Instead, you can file an exposure incident form through the WSIB Program for Exposure Incident Reporting (PEIR) or Construction Exposure Incident Reporting (CEIR) programs. These are voluntary reporting programs and you will be assigned an incident number. If you become ill in the future, WSIB will be able to process your claim faster.
To report an exposure, please complete and fax the appropriate form below to 1-888-313-7373 or call the WSIB at 1-800-387-0750, Monday to Friday, from 7:30 a.m. to 5 p.m.
For additional information, visit WSIB website. 
Related
Health and Safety Excellence program – Workplace Safety North
WSN Health and Safety Excellence information brochure