Free resources: Download and share safety talk, presenter guide, hazard alert
Beat the Heat Safety Talk Presentation     Beat the Heat Safety Talk Leader Guide    Hazard Alert: Heat stress can be a killer    Heat Stress Awareness Guide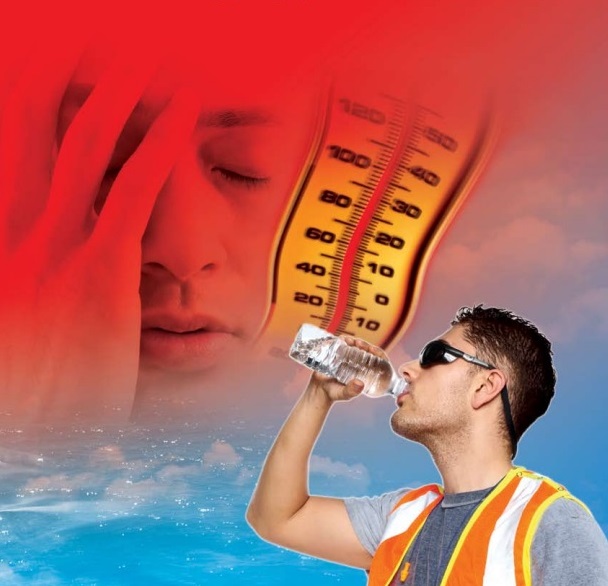 Heat-related illnesses are cause for concern, and with summer almost here, it's time for a refresher on the best ways to beat the heat at work. Keep in mind that severe heat-related illnesses like heat exhaustion can occur for several days after dehydration from exposure to high temperatures, according to the Canadian Centre for Occupational Health and Safety, whether you work outdoors as a tree planter, inside a mill, or toil year-round in toasty places like bakeries, foundries, or underground mines.
Top 10 warning signs of heat stroke
Symptoms of heat stress can range from mild heat rash or sunburn to severe heat exhaustion and heat stroke. 
Extremely high body temperature

Hot, dry, skin – an inability to cool the body through perspiration may cause the skin to feel dry
Increased heart and respiration rates as blood pressure drops and the heart attempts to maintain adequate circulation
Throbbing headache, nausea or vomiting due to dehydration
Weakness, fainting, or dizziness – especially if standing position is assumed quickly – due to low blood pressure from dehydration

Muscle cramps

Dark-coloured urine – a sign of dehydration

Confused, hostile, or seemingly intoxicated behaviour

Pale or bluish skin colour in advanced cases due to constricted blood vessels

Seizures or unconsciousness
What to do if you suspect heat exhaustion or stroke
Get medical aid

Move to air-conditioned environment or at least a cool, shaded area

Loosen or remove unnecessary clothing

Drink plenty of cool water

Fan and spray with cool water
How to protect yourself against heat stress
Sometimes it's difficult to self-recognize heat stress, so it's important to use a buddy system at work to keep an eye on each other and spot potential heat stress symptoms.
Stay fit

When possible, avoid working in hot areas and in full sun

Take frequent breaks

Use sunblock with at least SPF 15 and re-apply every two hours

Cover up with long-sleeve shirt, hat

Increase fluid intake

Avoid alcohol and excessive caffeine

Reduce activity when exposed to heat

Use buddy system to watch for symptoms

Increase salt intake (if doctor approves)
How
employers can protect workers against heat stress
Train workers in heat stress awareness and first aid

Provide drinking water

Provide rest breaks and air conditioned rest areas

Post urine colour chart in washrooms to raise awareness about hydration

Encourage workers to stay fit; to drink water

Indoors, provide fans for air movement

Use machines to reduce physical demands of work

Schedule most strenuous work to cooler times of the day

Measure daily Humidex ratings and have a Humidex Heat Stress Response Plan

Have a heat stress prevention program specific to your workplace

–

see pages 8-11 of the Heat Stress Awareness Guide for a sample heat stress policy
Related
How to avoid heat stress for masked workers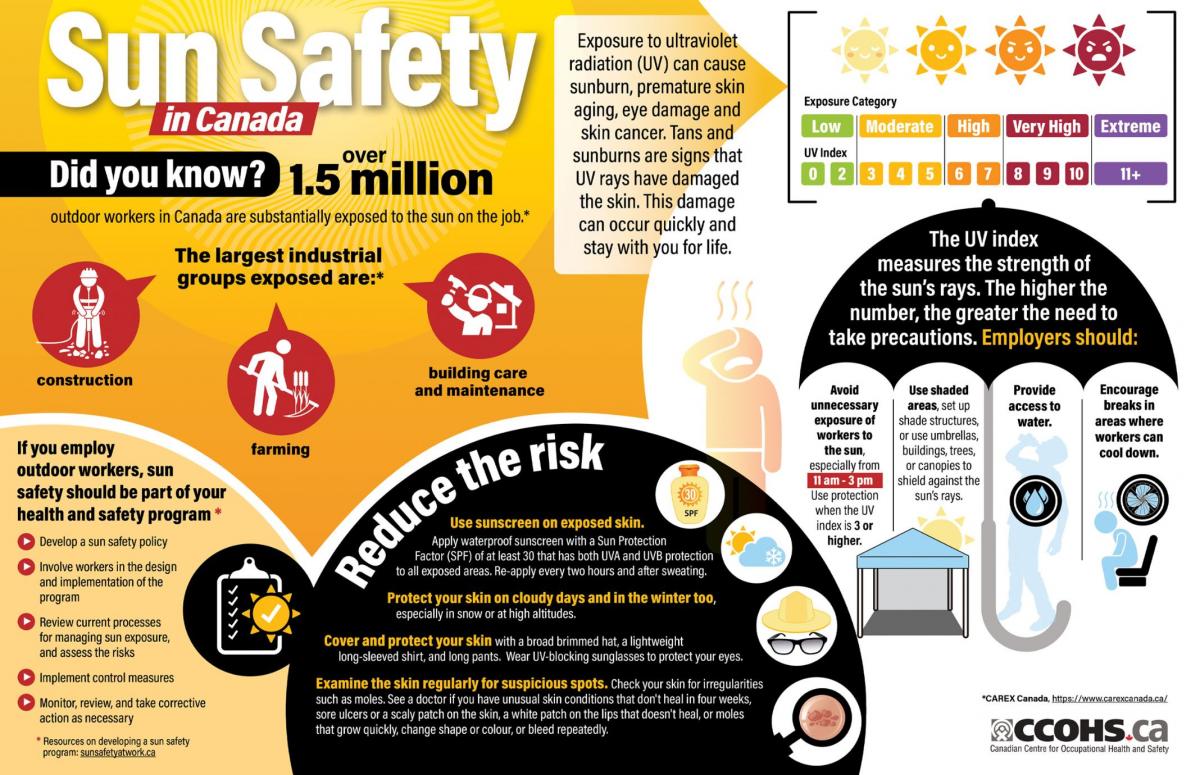 Free Resources
Free heat stress prevention resources - Workplace Safety North
Heat Safety Tool App real-time guidance for your specific location - OSHA-NIOSH
Heat Stress Toolkit - Occupational Health and Safety Council of Ontario
Managing and preventing heat stress in the workplace - Health and safety conference presentation
Heat stress guideline – Ontario Ministry of Labour, Training and Skills Development
Mining safety report with new heat stress standard released in Ontario
Humidex Calculator - Occupational Health Clinic for Ontario Workers
Working in the Heat infographic - Canadian Centre for Occupational Health and Safety (CCOHS)
Sun safety in Canada infographic - CCOHS