Tuesday, December 01, 2015
Interview with Bill Shaver, founding chair of Workplace Safety North


It is somehow fitting that Bill Shaver, past chair of the Ontario Mines and Aggregates Safety and Health Association (MASHA) and founding chair of Workplace Safety North was born and raised in Val d'Or, the "Valley of Gold." A third generation miner, his early years were spent at the same Val d'Or mine where his father worked as mine engineer and manager. His maternal grandfather had been the surface foreman at the same mine. After high school, Shaver spent two years at Haileybury School of Mines before heading to Queen's University for a mining engineering degree. 

Up to the challenge
Shaver spent the first decade of his career working in cold far-flung mining sites in the Arctic and Greenland. "When I look back, those were some of the most enjoyable times of my career because the projects were challenging and people were  learning new things, but also the management teams were usually quite small," says Shaver. "And so you got lots of responsibility…they would just keep heaping it on you until you either succumbed or were up to the challenge," he laughs. 
Over the years, Shaver worked at Uranium City in northern Saskatchewan, Raglan in northern Quebec, Redpath in North Bay, and was a founding member of mining services company Dynatec, predecessor to DMC Mining Services, which has since been purchased by Polish mining conglomerate KGHMSA. He joined the MASHA board in 2000 and became chair in 2001. In 2009, during the amalgamation of MASHA with the Ontario forestry, pulp and paper health and safety associations, he became inaugural chair of Workplace Safety North (WSN).

No going back
Bringing together three organizations in 2010 was not easy, but today, Shaver says he's pleased to see how the strengths of the past organizations have helped shape the current collaborative culture at WSN. "I think I was one of the early ones to recognize that there was going to be 'no going back' once we got the ball rolling," he says. "Here we are five or six years later, and we've been successful."

Industry practices and government plans
Benefits to being on the WSN board, Shaver says, is that he learned about other organizations and industries and how they do things, and he would bring back what he had learned to his own organization. Since it is a volunteer position, he praises companies that encourage employees to participate at the board level. Time spent away from the organization trying to improve safety in Ontario, Shaver says, comes back to the sponsoring organization in terms of education, information, and value in the community.
"I think there's a bunch of learning you enjoy by being on a board. Of course, with Workplace Safety North you get exposed to other industries. You get exposed to government individuals. I would say many of the politicians – and I think in general politicians have a bad name – however there are many of them that are smart people and are working very hard. At the present time, I think we're pretty fortunate to have Kevin Flynn as the Minister of Labour. He has a genuine interest in understanding the impact organizations like Workplace Safety North can have on safety of the people of Ontario."
Shaver applauds the work being done by WSN employees, and notes the board is there to help provide strategic direction and financial review, and to ensure correct policies and procedures are in place to allow the organization to run in a correct manner. They also give advice to senior management where there are specific issues that need to be resolved. 
"Most of the work in an organization is actually done by management and staff. We fly over every once in a while and if everything is in pretty good order, we cruise on by. We have meetings, conference calls, and committees, all of which are to oversee the organization to make sure it can operate as effectively as it can; and in part to make representation to the powers that be in government and industry, to make sure that the organization is held in the proper regard by those groups; to keep them educated as to what's going on. But again, all the hard work is done by the organization for sure. From a board member's perspective, it's a very good relationship that we have with both the management and the employees we interface with in the organization, so it's actually quite an easy job on most days."
Safety in Ontario has improved significantly
"I think volunteering is an important part of the social context of Canada and of Ontario," says Shaver. "I think the things I really enjoyed were dealing with the people, both at the board level and the people in the organization itself. I think that's part of the benefit and obviously part of the challenge of being on a board. 
"To some extent, when you volunteer and you're on a board, I think the objective is to somehow bring some of your own values and opinions to that organization. I think part of the way organizations get better is through management for the most part, but also for boards and all the employees to get aligned on how they're going to work together, how they're going to be respectful of each other, so that the organization can flourish in its ability to get stuff done. 
A culture we all have to embrace
"I was always happy with the fact that as an organization WSN seemed to be moving forward and getting significant work done in the field. I suppose the measure is not completely exact, but over the years that WSN and the other safety organizations have been in place, safety in Ontario has improved significantly by the measure of fewer people getting hurt. At WSN, the objective is to send everyone home at the end of each day safe. 
"You have to really believe that that's possible. In all of that, is part and parcel of the education that we have to try and get across to the people who go to work every day, and also to all of the people who are walking around in this country when they're not a work, because twice as many people are hurt off the job. 
"So it's a culture that we have to all embrace – doing what's right and what's safe. I've always thought that you can end up in a situation where people aren't hurt. Many of us have worked in organizations where, for a long, long time, we don't hurt anybody. So again, that's probably the perfect world, but there it is – if you've ever had the obligation to go and tell someone their loved one is not coming home – you'll know for sure that zero harm is the goal you want to achieve."  

Next steps
Having retired as WSN Board of Directors Chair, Shaver continues his work as President and Chief Executive Officer at DMC Mining Services, "however there is an aspect of me that tells me every once in a while that perhaps it is time to do something else…I have said that I will know when it is time to retire as I won't be able to keep up with the young guys. Well, so far, so good!" Although he divides his time between Sudbury, Oakville and Cambridge, the family considers Sudbury home.
"I come from a line of miners who live to a pretty old age. My Dad is 99 and his mind is still in good shape. Lucille and I bought what may be our retirement home on McFarlane Lake in Sudbury. We have a farm where we grow crops so that takes a bit of time and keeps me out of trouble. I also do some other board work and we have family and friends that we like to spend time with." Shaver's legacy to help improve mining health and safety will endure, just as the log cabins his grandfather built still stand in Val d'Or almost a century later.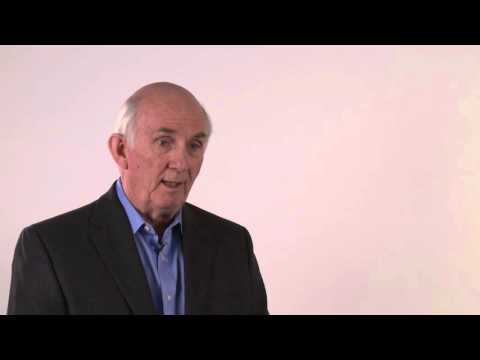 Video: Bill Shaver on the benefits of being a WSN board member