Interactivity of classroom combined with online accessibility
Virtual Classroom information sheet - download and print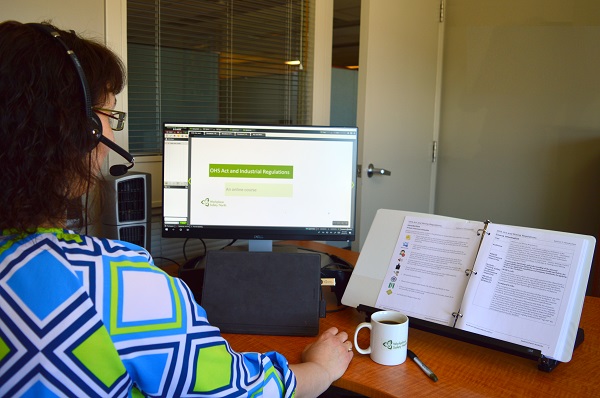 This month, Workplace Safety North (WSN) introduces two new virtual classroom courses on the Occupational Health and Safety Act and regulations – one for the industrial sector, and one for the mining sector. The OHS Act and Mining Regulations course is compliant with the Ministry of Training Colleges and Universities (MTCU) and part of the WSN supervisory common core suite.
"The virtual classroom is well-suited to bridging geographic distances and overcoming weather conditions unique to northern Ontario," says Kelly Ann Smith, WSN Program Training Specialist and the course developer. "Employers can ensure their workers get this basic health and safety training in a timely, cost-effective manner. The online course is condensed, so it is a half-day course rather than a full-day in the classroom."
"The benefits of virtual classroom training include instructor-led, real-time learning, plus students can actively participate on their screens and participate in real-time groups to complete assignments," says Smith.
After piloting the course over several months, WSN unveiled the service at a presentation at the annual mining health and safety conference in Sudbury last week. WSN is looking to develop more virtual classroom courses following feedback from the presentation at the mining conference. 
"The comments were really positive," says Smith. "People were asking when WSN would have more courses available, both in the supervisory common core suite and for Joint Health and Safety Committee training."
What is virtual classroom training?
A virtual classroom is a blended learning environment where participants can interact, communicate, view and discuss presentations, and engage with learning resources while working in groups, all in an online setting. 
It combines the convenience of online access with the immediacy of a live classroom trainer. The virtual classroom works well for companies and staff that are geographically spread out, whether located in city centres or remote areas.
Available Virtual Classroom courses
1. OHS Act and Industrial Regulations – Virtual Classroom
Occupational Health and Safety Act training includes 150-page pdf Participant Manual
2. OHS Act and Mining Regulations – Virtual Classroom
Supervisor Common Core mandatory skills training includes 206-page pdf Participant Manual
Related
Health and safety training course catalogue – WSN