Wednesday, March 07, 2018
Protect yourself from occupational lung disease
Infographic: Proper Use of Respirators – Please download, print and post, and encourage discussion in your workplace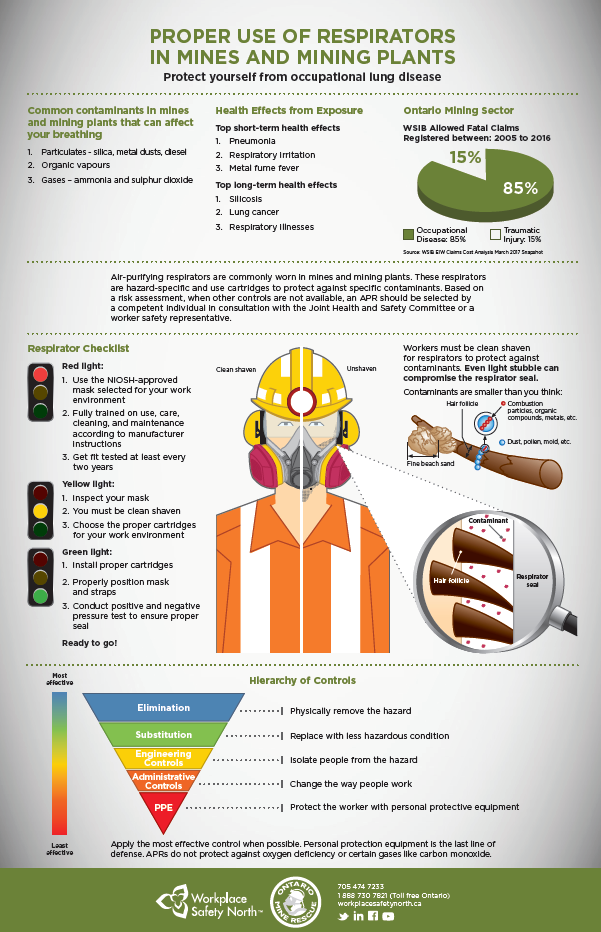 In the last 10 years, traumatic injury fatalities have decreased while occupational disease fatalities have not. In 2016, there were no fatalities related to traumatic injury versus 13 fatalities as a result of occupational disease in the Ontario mining sector. A large majority of these diseases affect the respiratory system.
A new mining health and safety infographic developed by Workplace Safety North (WSN) and its Workplace Environment Technical Advisory Committee explains how mine workers can properly use and care for an air-purifying respirator to prevent exposure to particulates like dust, organic vapours and gases found in mines and mining plants.
"For respirators to be effective, it's essential that they are worn and cared for properly," says Jason Chevrier, WSN Industrial Hygiene and Ventilation Specialist. "For workers, making sure you are clean-shaven is especially important because even light stubble can allow harmful contaminants to pass through the respirator seal."
Top short-term health effects from exposure to contaminants includes pneumonia, respiratory irritation and metal fume fever. Long-term exposure can lead to more serious health effects including silicosis, lung cancer as well as other respiratory illnesses.
Based on a risk assessment, air-purifying respirators should be selected by a competent individual in consultation with the Joint Health and Safety Committee or worker representative. "When dealing with any hazard, personal protective equipment like respirators should be considered the last line of defense," says Chevrier. "An effective control program uses multiple controls from across the 'hierarchy of controls', and includes a monitoring program to evaluate effectiveness."
The Workplace Environment Technical Advisory Committee is made up of mining industry volunteers with expertise in industrial hygiene and mine ventilation who meet to discuss industry issues and initiate the development of projects that advance the goal of zero harm. Thank you to the many volunteers and their sponsoring organizations:
BBE Consulting
CanmentMINING
Glencore Sudbury Integrated Nickel Operations
Goldcorp Porcupine Gold Mines and Red Lake Gold Mines
J.S. Redpath Limited
Occupational Cancer Research Centre
Ontario Mine Contractors Safety Association
Ontario Ministry of Labour
Vale Sudbury Operations
For more information, contact info@workplacesafetynorth.ca.
Related
Infographic: Health effects of diesel exhaust in mines
Ventilation assessment: A snapshot of mine ventilation practices in underground mines