Tuesday, February 04, 2014
Latest WSN-supported research to help prevent musculoskeletal disorders 
From evaluating the seats on mobile mechanical equipment in order to help reduce whole-body vibration, to helping managers incorporate ergonomics into overall company strategy, researchers at Ryerson and Laurentian universities, as well as the Institute for Work & Health, have a number of exciting projects on the go, and Workplace Safety North (WSN) is proud to support their efforts.
For current health and safety research applicable to the mining sector, Laurentian University in Sudbury is investigating whole-body vibration exposure, particularly via earth-moving equipment. Researcher Tammy Eger is overseeing a project entitled, "Validation and Efficacy of a Simple Tool to Measure Whole-Body Vibration Exposure."
"It's piloting in the mining sector, but it will be universal," says Jo-Anne Hurd, Ergonomic Health Specialist at WSN. "The seat vibration study has been going for a while. Now they're looking into a whole-body vibration iPod app used in Australia and seeing if it might be feasible to use in Canada. If we did have a whole-body app, it could help heighten awareness and teach workers the location and intensity of whole-body vibration in their workplace. 
"In the field, people tend to become complacent," notes Hurd, "The body will adapt to vibration. When I'm out in the field, I can feel a whole lot of vibration, I can feel the floors vibrating, and I say to the workers: 'Wow, whole lot of vibration out here!' and they'll say, 'Really?' because they're just so used to it. So it would be nice to have an app and say, 'Look at this!' With MSDs, it's often just about raising awareness."
Operators of earth-moving equipment are exposed to high amplitude whole-body vibration via the seat, and prolonged exposure causes serious long-term health effects, particularly back disorders. Management of this hazard is difficult, in part because measurement of vibration exposure requires expensive equipment and expertise, so it's infrequently undertaken. 
By taking more frequent measurements as part of a comprehensive vibration management program, researchers will be able to identify effective control measures to reduce vibration exposures. The research will validate, implement, and evaluate the use of an inexpensive consumer electronic device as a simple means of monitoring whole-body vibration exposure within a whole-body vibration management program. If successful, subsequent adoption of the program across the industry will help reduce occurrence of serious work-related back disorders. 
A prototype and operational software has already been developed through seed funding and in-kind support from Rio Tinto Coal Australia. This research is to validate the final device and evaluate the use of several devices within a comprehensive whole-body vibration management project. During phase one of the research, the device is validated against underground hard-rock mining vibration exposures (previously measured) that will be generated by a whole-body vibration simulator 
During field testing in phase two, the device will be demonstrated and strategies will be discussed on how to incorporate the information into a whole-body vibration management program. Workplace health and safety committees also participate in order to jointly develop the appropriate vibration management strategy.
The objectives of the research project are to: (1) validate a simple and cost effective whole-body vibration measurement device suitable for use by mine health and safety committee members; and (2) evaluate the implementation of the device as part of a comprehensive whole-body vibration management program to reduce vibration exposure associated with the operation of underground (or surface) mobile mining equipment.
Free Resources
WSN Collection of MSD Prevention Tools includes employee survey, policy samples, posters, assessment tools, and more. 
Musculoskeletal Disorder Safety Talk - Take Ten – Workplace Safety North. Geared towards the mining sector, the MSD Safety Talk examines the following: What are MSDs?; MSD Signs and Symptoms; Recognizing MSD Hazards; Ergonomics Solutions.
Preventing Musculoskeletal Disorders – Workplace Safety and Insurance Board. Excellent compilation of resource material and guidelines.
Musculoskeletal Disorders / Ergonomics – Ministry of Labour. Variety of publications and resource information by industry sector.
Don't just sit there! infographic – Washington Post clearly demonstrates issues regarding prolonged sitting.
MSD Toolkit – Institute for Work & Health includes prevention toolbox, guideline and resource manual.
Video: Let's make our day harder. Popular 4-minute video by Dr. Mike Evans about the science of how our typical days have shifted with technology and culture and the resulting impact on our health.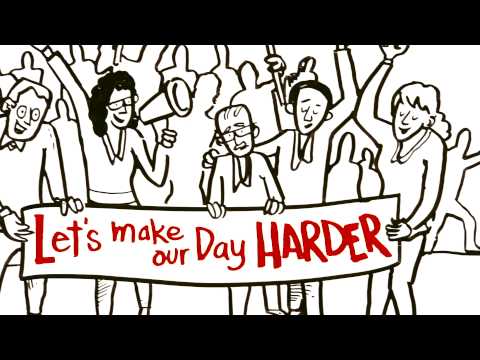 Related articles
Is your job causing you pain? International Repetitive Strain Injury Awareness Day an important reminder to protect yourself and your co-workers
Forestry health and safety research update: Latest WSN-supported research in helping prevent musculoskeletal disorders
Pulp and paper health and safety research update: Latest WSN-supported research is helping prevent musculoskeletal disorders
Is it painful to work at your company? Repetitive Strain Injury Day an important reminder to protect yourself and your co-workers.