Tuesday, February 12, 2019
Specialized courses in emergency response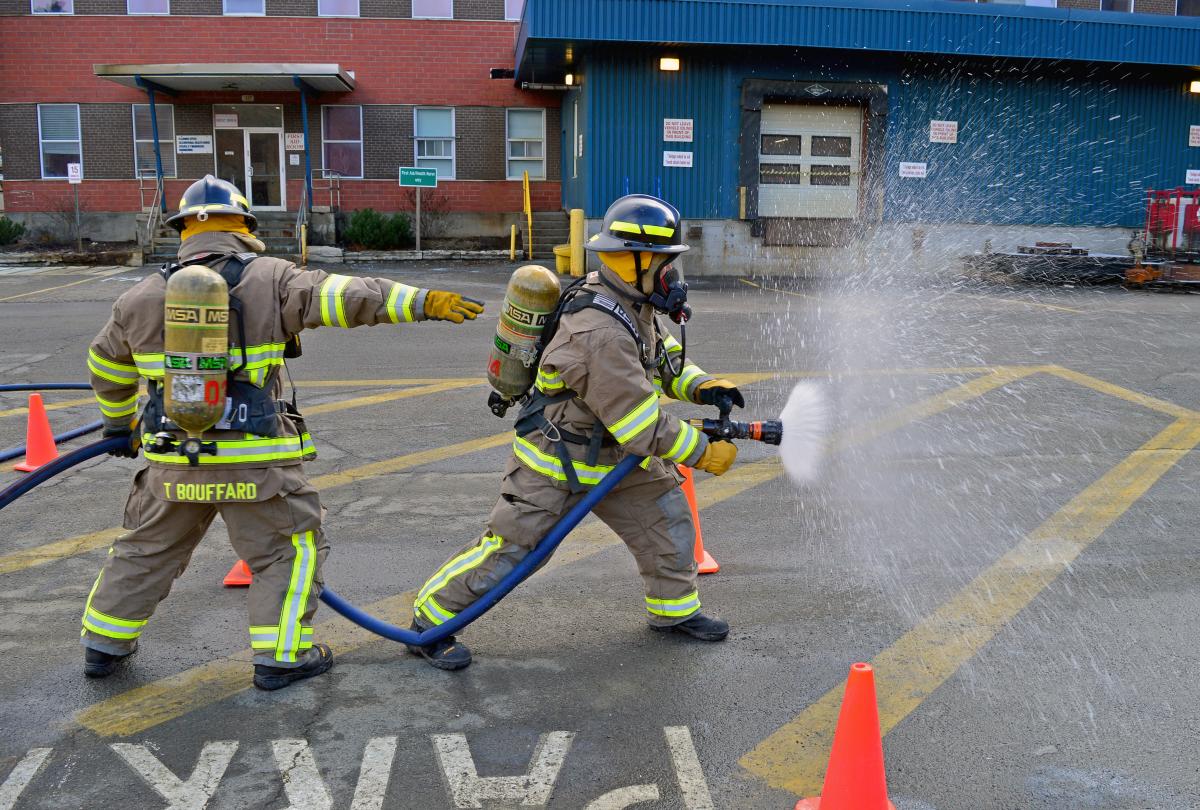 Despite the 'emergency' allusion to flashing red and blue lights, and loud alarms, Ontario Mine Rescue's Emergency Services Training Division has a quiet profile.
But that doesn't bother the division's newest Emergency Services Officer Scott Gillett, a trained mine rescuer with experience as a volunteer firefighter who joined Ontario Mine Rescue (OMR) and the division last year.
Started about 10 years ago and then headed by the late Mine Rescue Officer and Emergency Services Specialist Shawn Kirwan, the Emergency Services Training (EST) Division offered specialized courses in emergency response outside the core Ontario Mine Rescue underground program.
As in underground mining, emergency response in industry has progressed beyond "just traditional firefighting," said Chief Emergency Services Officer Tim Ebbinghaus, the division's manager. 
Responding to hazardous material exposures, confined space rescue, emergency medical aid
The expectation now, Ebbinghaus said, "is that brigades are capable in effectively and safely responding to hazard material exposures and spills, confined space rescues, and emergency medical aid situations."
Despite not having the 90 years of industry exposure as OMR's underground program, the division's two staff – Ebbinghaus and Gillett – both have full training schedules.
"I've seen a lot of Ontario I hadn't seen before," said Gillett, who has travelled not only to instruct courses in firefighting, hazardous material response and confined space rescue to Ontario mines, but to upgrade his own knowledge and skills in emergency response.
Staying on top of advances in procedures and technology
"We can't be satisfied just knowing how to do something," said Ebbinghaus. Just as for Mine Rescue Officers, specialized emergency response requires continual knowledge and skills development, and awareness of advances in procedures and technology.
"We want to be able to do it [emergency response] at a high level," Ebbinghaus said, "so we can train emergency responders to perform at their highest level."
Gillett shared his learning experiences during a recent refresher training exercise with a six-member squad of Glencore Strathcona Mill's emergency response team, showing scorch marks on the outside of his turnout coat from his own training.
"That's no longer suitable for use in fire response" or fire exercises, he said, explaining that though the outside of the turnout coat is only scorched, the interior filling has been compromised by the extreme heat.
The day included two-minute drills – donning all protective equipment including activating breathing apparatus as quickly as possible; hose drills – deploying, using and recovering multiple 50-foot hose sections; a lifting bag exercise; and a site tour to review locations of fire hydrants.
"Because if there's a fire, you're going to need water," the emergency services officer told the team, "and you should know the closest place to get it."
With maintenance and upgrading training for himself, a suite of emergency response courses to present, and refresher training in those courses, Gillett does not expect his job to become routine, especially as more mines and industrial operations knock on the door.
Related