Tuesday, February 04, 2014
Latest WSN-supported research to help prevent musculoskeletal disorders
From evaluating personal protective equipment that could help reduce foot-transmitted vibration, to helping managers incorporate ergonomics into overall company strategy, researchers at Ryerson and Laurentian universities, as well as the Institute for Work & Health, have a number of exciting projects on the go, and Workplace Safety North (WSN) is proud to support their efforts.
"When it comes to pulp and paper ergonomics – there's still a lot of manual handling," says Jo-Anne Hurd, Ergonomic Health Specialist at WSN. "In the dye rooms workers may handle heavy supplies such as lifting 50-lb bags of chemicals off the floor and emptying them into chest-high vats. During an ergonomic assessment, I happened to notice that the vats had an opening near the floor, so procedures were changed. Sometimes, just coming into a workplace with fresh eyes can be a big help.
"Another thing I'm helping with is the re-design of the operator's room," says Hurd. "They're at high-risk since they basically sit and stare at nine monitors while the pulp and paper machines are operating. There's glare and their backs get sore, so it's good to see this area being redesigned for better ergonomics," notes Hurd.
Current health and safety research applicable to the paper, printing, and converting sector, includes a study at Laurentian University in Sudbury to evaluate personal protective equipment (PPE) as a strategy to reduce foot-transmitted vibration. 
Foot-transmitted vibration (FTV) occurs when a worker is exposed to vibration that travels up through the feet. Exposure typically occurs when standing on vibrating surfaces associated with the operation of industrial machinery and equipment. 
Recent medical evidence confirms workers exposed to FTV can develop cold-induced blanching of the toes, in addition to numbness and tingling in the feet and toes. As part of a vibration management program some companies have started to use "anti-vibration" mats, work boots and insoles in an effort to reduce harmful vibration levels.
However, there are no controlled studies to show whether or not the mats, boots, or insoles effectively reduce vibration. So, the main objective of the study is to determine the effectiveness of a variety of mat-workboot-insole combinations in reducing FTV.
During phase one, combinations from three mat types, two work boot types, and five insoles were tested at FTV exposure frequencies in a laboratory setting. The combinations that attenuated FTV best were selected for field-testing in phase two. Mats, boots and insoles will be provided to participating worksites, and ten workers will be fitted with a pair of work boots and several pairs of insoles. 
Once the results have been determined, the best combinations of mats, boots, and insoles will be recommended for specific workplace vibratory frequencies. The hope is that implementation of specific PPE could lead to improved comfort and decreased risk of injury.
Free Resources
WSN Collection of MSD Prevention Tools includes employee survey, policy samples, posters, assessment tools, and more. 
Musculoskeletal Disorder Safety Talk - Take Ten – Workplace Safety North. Geared towards the mining sector, the MSD Safety Talk examines the following: What are MSDs?; MSD Signs and Symptoms; Recognizing MSD Hazards; Ergonomics Solutions.
Preventing Musculoskeletal Disorders – Workplace Safety and Insurance Board. Excellent compilation of resource material and guidelines.
Musculoskeletal Disorders / Ergonomics – Ministry of Labour. Variety of publications and resource information by industry sector.
Don't just sit there! infographic – Washington Post clearly demonstrates issues regarding prolonged sitting.
MSD Toolkit – Institute for Work & Health includes prevention toolbox, guideline and resource manual.
Video: Let's make our day harder. Popular 4-minute video by Dr. Mike Evans about the science of how our typical days have shifted with technology and culture and the resulting impact on our health.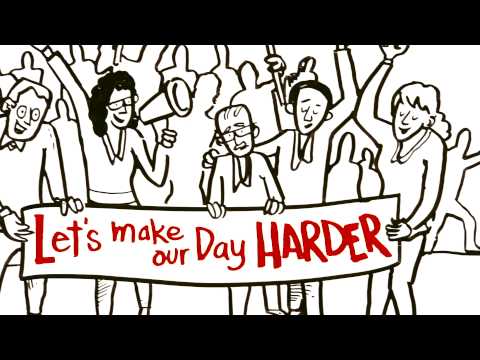 Related articles
Is your job causing you pain? International Repetitive Strain Injury Awareness Day an important reminder to protect yourself and your co-workers
Forestry health and safety research update: Latest WSN-supported research is helping prevent musculoskeletal disorders
Mining health and safety research update: Latest WSN-supported research helping prevent musculoskeletal disorders
Is it painful to work at your company? Repetitive Strain Injury Day an important reminder to protect yourself and your co-workers.