Institute for Work and Health reviewed online learning in an occupational context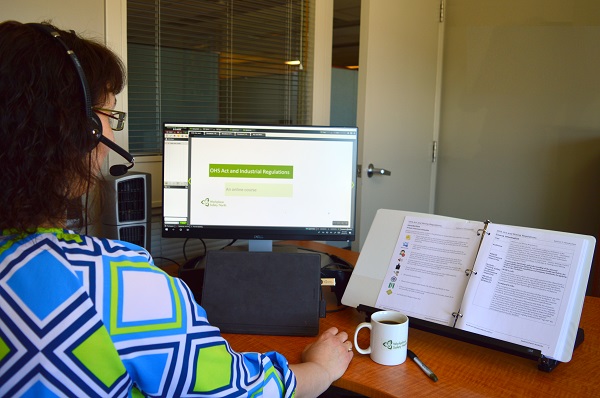 With the shift to from classroom to virtual learning during the pandemic, the Institute for Work and Health (IWH) conducted research on the effectiveness of this training method for occupational health and safety training.
"The good news is that researchers found there was no significant difference in learning outcomes based on whether you studied in a traditional in-person classroom or with virtual instructor-led training," says Tom Welton, Director of Prevention Services and Education Programs at Workplace Safety North (WSN).
WSN serves the Ontario forest products and mining industries, both of which were deemed essential during the pandemic. The health and safety association quickly had to move much of its workplace health and safety training to a virtual instructor-led format.
"As the only Ontario health and safety association headquartered in northern Ontario, WSN has always been resourceful in how to best reach all of its sector-based clients located across this huge province, so fortunately we were ahead of the curve with technology, and WSN has regularly guided clients on how to access virtual training.
"With lockdown, WSN began moving more training courses into the virtual instructor-led format in order to serve our essential sectors. The pandemic created a tremendous interest in virtual training, and many mines and forestry mill operations find it super convenient for their staff also located in many remote areas of the province.
"Many of our staff work remotely across the province, so we all work with laptops and smartphones via the cloud. We already had a few virtual instructor-led courses available prior to the pandemic, and this has now increased to 20 courses currently available," adds Welton.
From April 2020 to March 2021, during the pandemic, WSN Prevention Services department provided 4,224 participant training days with virtual instructor-led training. Ontario Mine Rescue also provided 5,823 participant training days with socially-distanced, in-person hands-on training throughout the pandemic.
For more information, contact WSN Training Department.
Related
In-person instructor-led OHS training at locations across Ontario, or on-site at your workplace.
Virtual instructor-led OHS training online using Zoom platform; also known as distance learning.
E-learning on-demand, self-paced online training. 
Ontario Mine Rescue course descriptions
Free health and safety training now available for small businesses