Thursday, December 03, 2020
Watch for changing road conditions
The Road to Safety - Implementing a Safe Driving Program.pdf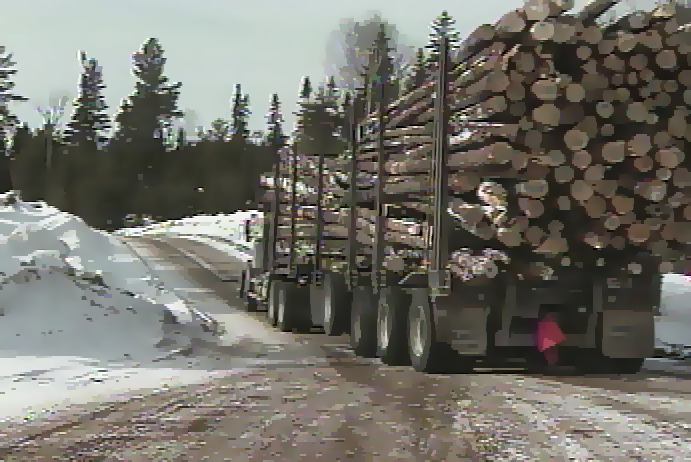 Each year, when temperatures dip and rise in spring and fall and weather conditions change in an instant – from muddy and wet one moment to slippery and icy the next – forestry workers have to be especially careful on isolated access roads. On these quiet, low-traffic roads, it's easy to be lulled into a false sense of security, but being aware of your location and communicating with other drivers is crucial to prevent tragedy.
Stay alert to weather and road conditions
For example, on an early morning in November, two silviculture workers were travelling to a slash-pile burning site in a one-ton truck. The driver lost control of the truck on a downward sloping S-curve. The truck left the roadway and slid into the ditch. The vehicle rolled three or four times, ejecting the passenger who suffered head injuries and broken ribs. The driver suffered minor cuts and bruises. Neither the driver nor the passenger was wearing a seatbelt.
"We typically see a rush of incidents when the weather conditions change," says Chris Serratore, occupational health and safety director at Workplace Safety North. "That's where sanding helps. It's important to keep steady maintenance on logging roads, especially when it snows or roads are icy."
A failure to communicate can cost lives
In one incident involving three drivers, two drivers were completely unaware of the third, resulting in tragedy because there was nowhere to turn on the single lane bridge. One winter morning around 6:30 a.m. on a logging haul road, Driver One headed northbound towards a bridge with his loaded truck.
The road was busy, well-packed and plowed. Driver Two was in a pickup truck headed in the opposite, southbound direction, and in two-way radio contact with Driver Three, a co-worker in another loaded truck headed northbound.
Driver Two received the OK from Driver Three to proceed down the hill and across the bridge. The two drivers in radio contact were completely unaware of Driver One, who was caught between them as he approached the bridge. Swerving to avoid collision, Driver One's log haul truck slid over the rail of the bridge and into the river. His body was recovered the next day.
Snow narrows roadways and hides distance markers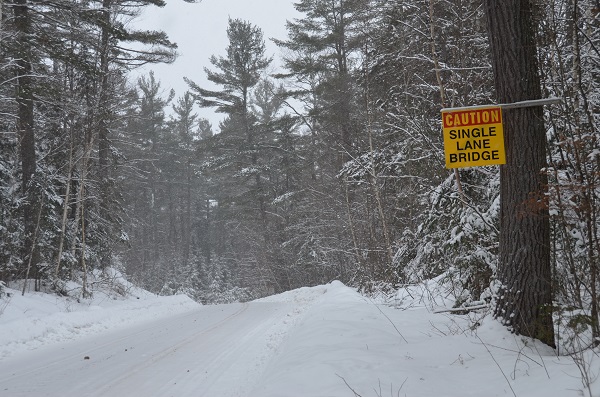 "As the snow builds through the season, the roads get narrower," says Serratore. "Normally, you would have room for two vehicles, and now only one can get through. One of the biggest issues in winter is that drivers have to be more attentive to signage and their location on the road, because they don't have the ability to pull over and let someone pass." Later in the winter season, the snow can build as much as a five-foot wall of snow or more on each side of the road.
"This is a big concern in winter months," says Serratore. "Most highway access roads have mileage markers starting at zero, and drivers can communicate their location via two-way radio and say, for example, they are two kilometres in on a specific road.
"Lack of distance markers is treacherous," says Serratore. "Drivers can't predict where other drivers are. Some older logging access roads have been reopened and markers are missing. You might be able to use landmarks or zero out your odometer, but as the season gets busier with a steady stream of haul trucks, it can get quite dangerous – all the more reason to maintain signage and an effective communication system between drivers."
Be prepared for winter driving conditions
Ice and snow add another dimension to driving on logging roads early and late in the hand-tending or brush-burning season. Muddy and frozen roadways, increased animal movement, and snow and ice cover can complicate matters; it is crucial to keep windows clean for visibility.
After working in the bitter northern cold all day, and then getting into a warm truck for a long commute home, be alert to your fatigue level. To manage fatigue, Transport Canada suggests drivers can consider the following: sleep well prior to long road trips; share the driving; take regular rest stops every couple of hours and do some exercise; eat light meals or fruit throughout the journey and drink water; if you feel tired during the trip, if possible, find a safe area to pull over for a 20-minute power nap.
Winter driving tips
Emergency equipment in your vehicle: candles, matches, flares, non-perishable food items, flashlight, gloves, blankets, shovels

Travel in winter storms is not recommended

Snow hampers visibility

Reduce your speed

Leave more space between vehicles

Keep lights clear at all times

Consider using studded tires or tire chains

Use extra caution on unsanded stretches of logging roads

Be aware of icy conditions

Your vehicle should be reliable, safe and well-maintained

Roads in winter are narrow, sightlines are reduced and communication becomes more important
Sharing the road with snowmobilers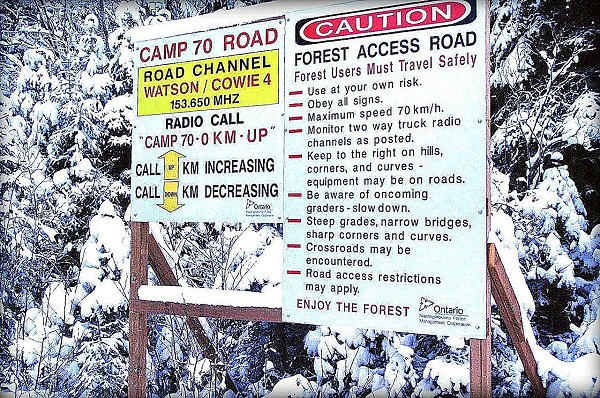 Logging roads in northern Ontario are built, used and maintained to a high degree by forestry firms, but because almost all of the roads are on Crown land, the companies have no legal power to control use of the road by members of the public.
Cottagers, hunters and anglers often use logging roads as access routes. Snowmobile trails cross the roads and snowmobile clubs occasionally use portions of roads as connecting routes from one segment of a trail to another. Individual snowmobilers also sometimes use old logging roads as unofficial trails.
The presence of this additional traffic on logging roads – especially in winter, when visibility is often poor and roads are snow-packed and icy – is cause for concern. It's important for companies to actively communicate with local snowmobilers. As for individuals who sometimes snowmobile on logging roads, the Ontario Federation of Snowmobile Clubs recommends that snowmobilers buy a trail permit and ride on official OFSC trails.
Related
Northern Ontario forest agency adopts BC-legislated road sign program: New standard includes radio channel protocol
Resources
The Road to Safety – Implementing a Safe Driving Program
Training
Safe Driving on Forest Roads (In-person)
Safe Driving on Forest Roads (E-learning)
Safe Driving on Forest Roads Recreation Workshop (E-learning) – for snowmobiler or ATV clubs
Videos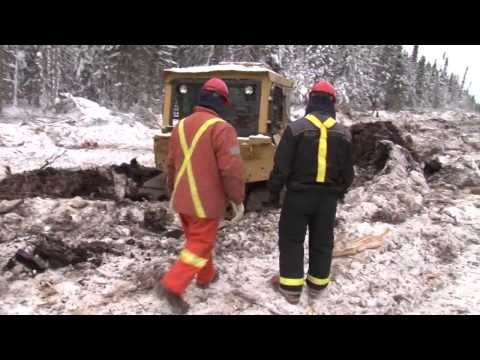 Video: Safe Towing Procedures: https://youtu.be/l9lN_30St8I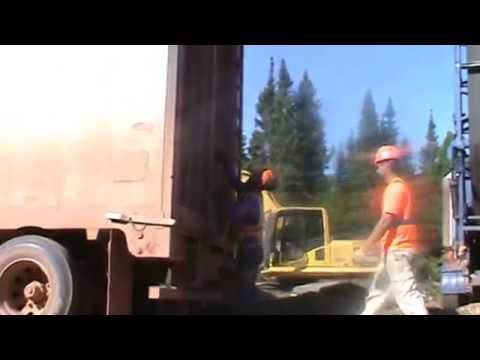 Video: Safe tarping practices for chip vans