First month on new job most dangerous
New and young worker employer guide – Free download includes new worker orientation checklist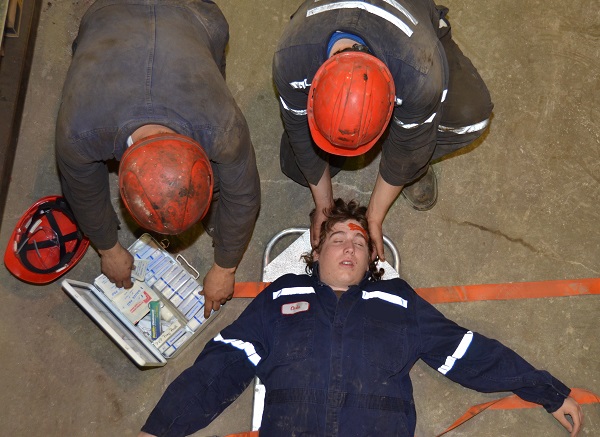 Thirty young workers, aged 15 to 24, died in work-related incidents between 2012 and 2016, according to the Workplace Safety and Insurance Board (WSIB). 
From May 1 to August 31, 2018, Ministry of Labour (MOL) inspectors are visiting industrial workplaces in Ontario with a view to helping protect vulnerable new and young workers. 
First month on the job most dangerous
Workers at any age starting a new job, as well as young workers under age 24, are three times more likely to be injured during their first month at work.
"Successful businesses look at training new and young workers as an opportunity to instill a strong safety mindset," says Tom Welton, Industrial Director at Workplace Safety North (WSN). "Good supervisors understand that a strong health and safety culture has a direct effect on the company's reputation, morale, and overall productivity and revenue, so it's crucial to provide good training, ongoing coaching and supervision to new and young workers." 
Top 5 health and safety orders 
In reviewing 2017 MOL inspection blitz results, companies can proactively prepare for the upcoming inspection blitz and make their workplaces safer for all workers, including new and young employees.
Last summer, MOL inspectors visited 1,779 Ontario workplaces and issued 6,828 orders, including 88 stop work orders, and the following are the top five issues.
1. Assess workplace for risk of violence, have a workplace violence and harassment prevention policy in place (1,182 orders) 
Companies must have workplace violence and harassment policies and programs in place. Employers must assess the risk of violence in their workplace, then develop a program to control the risk. They must then train all workers on this program and re-assess as required.
A free, downloadable reference guide from the MOL includes a sample policy on workplace violence. The policy states, for example, that all workers are encouraged to raise any concerns about workplace violence and to report any violent incidents or threats, and that management pledges to investigate and deal with all incidents and complaints.
2. Perform mandatory basic occupational health and safety awareness training for workers and supervisors (762 orders)
Workers and supervisors must be given basic workplace health and safety awareness training. The basic awareness course is essentially 'Safety 101' for new workers and it's the law. 
This short, simple training gives workers and supervisors a basic understanding of the law, their roles and responsibilities, and it's free.
3.  Safe handling of materials (615 orders)
In addition to basic health and safety awareness training, it's expected employers will provide hands-on training. Orders issued under the Material Handling sections 44 to 66 of the Regulations for Industrial Establishments refer to ergonomics, safety procedures for loading and unloading materials, material handling, and the use of machinery such as forklifts, cranes, and other mobile equipment.
4. Post a copy of the Occupational Health and Safety Act in the workplace (452 orders)
There are a number of items that must legally posted in the workplace, including:
(a) Occupational Health and Safety Act (green book)
(b) Health and Safety at Work: Prevention Starts Here – poster
(c) Employment Standards Act, 2000 – poster
(d) Health and Safety Policy – prepare and annually review a written health and safety policy
(e) Workplace Violence and Harassment Policy
(f) Names of your Joint Health and Safety Committee Members or Health and Safety Representative
Other than the OHSA green book, which costs $8 plus HST, poster materials and sample policies are available free of charge online from the Ministry of Labour.
5. Maintain equipment in good condition (427 orders)
The law states, "an employer shall ensure that the equipment, materials and protective devices provided by the employer are maintained in good condition." To keep workers safe, employers and supervisors must ensure equipment used by workers is properly maintained at all times, including regular inspections, maintenance programs, and ensuring workers report any deficiencies when detected. For example, faulty electrical equipment is the cause of many injuries each year, and yet it's easily preventable. 
Public now have access to company safety statistics
Most MOL inspection orders were issued in the retail, restaurant, tourism, hospitality and recreational services sectors, and a newly released database from the WSIB allows public access to company health and safety statistics, so young workers and their parents can research safety records of potential employers.
Small business health and safety checklist
For small businesses in Ontario, the small business health and safety checklist is an excellent resource for businesses. Users enter the number of employees and the program automatically creates a checklist of everything needed to meet current Ontario health and safety legislation. 
Related
Free resources at Workplace Safety North include posters, safety meeting talks, employer guide, more.
Industrial webinar Apr 26: Be prepared for MOL inspection blitz regarding new and young workers
New young worker industry videos introduce health and safety topics -  CCCA bilingual video series