Centre of innovation for workplace health and safety in northern Ontario 
WSN Business Safety Advantage information sheet
Workplace Safety North (WSN) is the newest addition to Cedar Street in Sudbury's downtown. The health and safety training centre, also home to the Ontario Mine Rescue headquarters, offers state-of-the-art classrooms for Ministry-approved health and safety training, such as mining supervisor mandatory skills, working at heights, and mine rescue. 
"Last year, staff provided almost 2,000 occupational health and safety training sessions across the province," says Paul Andre, WSN Acting President and Chief Executive Officer, "so this move comes at a good time as the new building offers additional classroom space. We look forward to sharing the new facility with our clients and the community starting in September."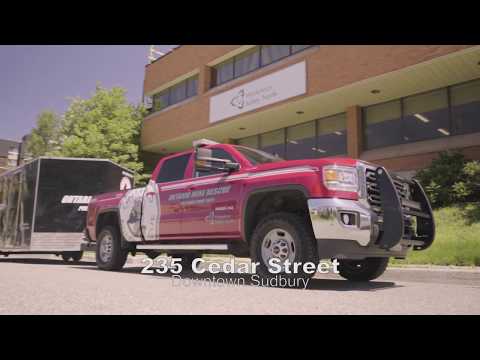 Video tour of Workplace Safety North health and safety training centre in Sudbury https://www.youtube.com/watch?v=sQBaq3CuKTA&t=2s
The building's main floor has four large technologically-equipped training rooms, as well as a boardroom available for meetings or webinars. Training rooms feature large presentation screens with Bluetooth connection, free high-speed Wi-Fi, video conferencing capability, dry erase walls, standing desks, individual table power outlets, and large windows to maximize natural light. The main floor is also equipped with a kitchen that includes two fridges, microwave, and ample lunchroom seating. A fifth specialized mine rescue training room is located in the basement of the building for hands-on emergency response training and specialized equipment storage.
"With the new facility, we'll be able to hold multiple Ontario Mine Rescue training sessions at the same time; no longer limited by class size or space," says Ted Hanley, Ontario Mine Rescue General Manager. "In addition to being a Mine Rescue Station for local mine rescue teams of mine operations, the centre serves as the headquarters for the standardized provincial Ontario Mine Rescue program. The on-site warehouse now has sufficient space to house the training and emergency response materials that are shipped to Mine Rescue Stations across the province."
The facilities also serve as a centre of innovation for workplace health and safety in northern Ontario, a place for researchers and partners to meet, share knowledge, and collaborate. 
"WSN sees the opportunity to collaborate with other like-minded organizations to have a positive impact within the Sudbury community," says Andre. "Having a world-class facility helps WSN connect and form partnerships with more individuals, especially now that technology can be leveraged to better serve those in remote communities."
As the only provincial health and safety association located in northern Ontario, WSN serves both sector-and community-based clients. "While WSN has specific expertise in mining, mine rescue, and forest products, Ministry-approved general occupational health and safety training is available to communities, employers, and workers, including First Nations communities across the north," says Andre.
In the next ten years, WSN plans to open additional health and safety training centres in the north. "With northern Ontario's vast geography, meeting the occupational health and safety needs of northern communities can be challenging," says Andre. "To address this, WSN is planning to open centres in both Timmins and Thunder Bay, as these are the areas with the greatest need." 
Training is also offered at the WSN training centre in North Bay. For more information, contact info@workplacesafetynorth.ca.
Related
Workplace Safety North appoints new interim president and CEO