Topic:
General Safety
Mental Health
Stay up to date on the latest health and safety issues
On January 27, 2021, Workplace Safety North hosted a webinar, "Dementia in the Workplace," as part of the Feed Your Brain lunch and learn webinar series.
In this webinar you learn from Jessica Bertuzzi, Public Relations and Education Manager, Alzheimer Society Sudbury, Manitoulin, North Bay and Districts, who discusses dementia and its impact in the workplace.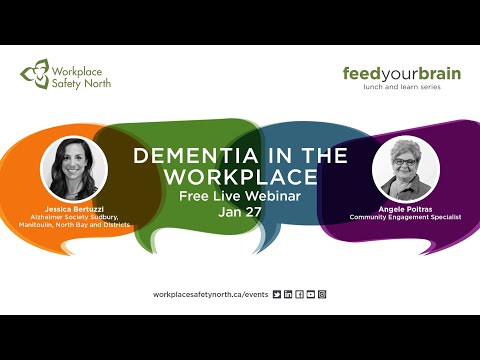 YouTube video:
Topics discussed:
What is dementia, signs and symptoms
Understanding dementia in the workplace
Breaking the stigma around dementia
Learn about a new awareness program for employers
About WSN Feed Your Brain Lunch and Learn Series
: The series focuses on trending topics in workplace health and safety, including: mental health and psychological health and safety, workplace policy regarding alcohol and drug use, and how to build a strong safety culture. 
Resources