Topic:
Young Workers
General Safety
Mental Health
On June 16, 2021, Workplace Safety North hosted a webinar, "Dismantling the Barriers to Positive Mental Health for Youth," as part of the Feed Your Brain lunch and learn webinar series.
Certified Psychological Health and Safety Advisor, Angele Poitras, led a one-hour session about youth mental health with guest speakers, Eric Windeler, founder and executive director of Jack.org, and Jessica Landry, Jack.org speaker from Thunder Bay. Jack.org is a national non-profit that provides a peer-to-peer network to help improve youth mental health through training, events, and community group.
In this session, participants learned engagement strategies to support youth mental health. If you hire young workers, already have them in your workplace, or have employees with youth at home, this session is a must.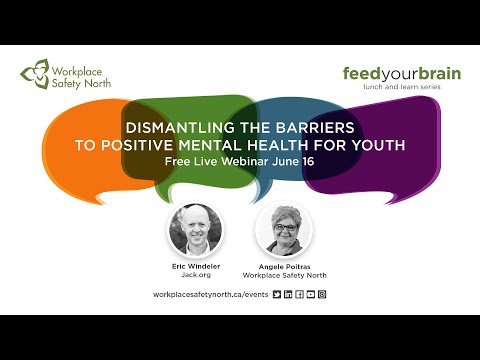 Topics discussed:
Impact of pandemic on youth mental health
Importance of mental health and wellness strategies
How parents and employers can engage youth to improve mental health outcomes
Brief video: Emilia, 21, shares her personal mental health journey
Resource information
About WSN Feed Your Brain Lunch and Learn Series
: The series focuses on trending topics in workplace health and safety, including: mental health and psychological health and safety, workplace policy regarding alcohol and drug use, and how to build a strong safety culture. 
Resources:
Kids Help Phone
- 24/7, national confidential support service in English and French