Topic:
General Safety
Mental Health
On September 29, 2021, Workplace Safety North hosted a webinar, "Exploring the Evolution of Workplace Mental Health Programs," as part of the Feed Your Brain lunch and learn webinar series.
Certified Psychological Health and Safety Advisor, Angele Poitras, led a one-hour session on the past, present, and future of workplace mental health, with guest speaker, Maureen Shaw, former President and CEO of the Industrial Accident Prevention Association, a legacy Ontario health and safety association.
A pioneer in workplace mental health, Maureen is credited with adopting the Healthy Workplace Model, which integrates leadership, physical health and safety, and psychological wellness into organizational strategy and culture. Affectionately referred to as the 'Mother of Safety,' Maureen is the owner of Act Three Consulting and has more than 30 years of occupational health and safety experience.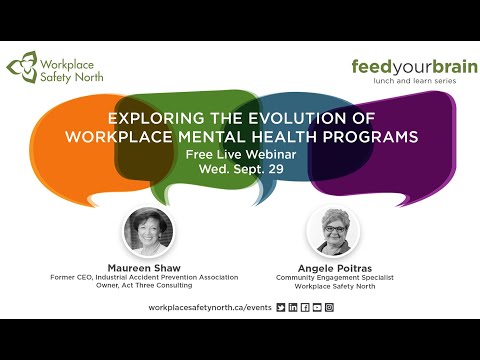 Topics discussed: 
Learning from Ontario workplace mental health programs over past 30 years

How leadership has evolved in building psychologically safe workplaces

How Covid brought mental health to the forefront of health and safety

Advice for workers and leaders returning to the workplace

What psychologically safe leaders and workplaces of the future look like
About WSN Feed Your Brain Lunch and Learn Series:
The se
ries focuses on trending topics in workplace health and safety, including: mental health and psychological health and safety, workplace policy regarding alcohol and drug use, and how to build a strong safety culture. 
Resources: