Topic:
Battery Electric Vehicles
Mobile Equipment
Arc flash, electric shock, and thermal runaway from overheated battery top health and safety risks in Ontario mines
On November 9, 2022, Workplace
Safety North hosted a webinar, 
"Mining Safety: New Research on Root Causes of Battery Electric Vehicle Fires." 
In December 2021, with the support of the Mining Legislative Review Committee (MLRC) and the Ministry, WSN planned and facilitated a root cause analysis of the risk of battery electric vehicle fires. The group of subject matter experts from the mining industry met to take a deep dive into the root causes and controls for this top industry risk.
The risk-based research draws on industry, worker, management, health and safety association, and Ministry knowledge of risk. The approach draws on real-life insights into risk management and operations research, and decision science.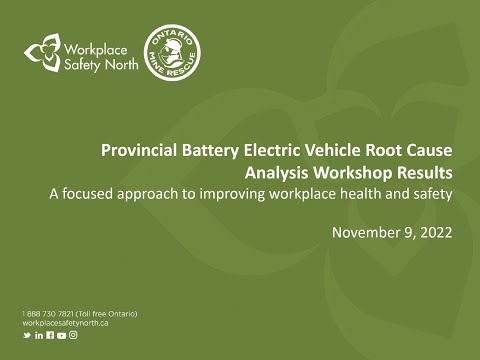 Discussion topics
Top health and safety risks associated with the operation and maintenance of battery electric vehicles

Top root causes of battery electric vehicle fires

Short-term and long-term control activities to prevent vehicle fires associated with arc flash, electric shock, and thermal runaway

Communicating risk and prevention in the sector
Resources