Ontario Mine Rescue
Numerous Milestones make First Year as MRO 'Exciting'
Mike Krell and Dan Rulli, hired as Ontario Mine Rescue Officers in September 2015, are at the front of the "Next Generation" of MROs – and they plan to be there for a while
"It's been very exciting," says Rulli, of his first year as Southern District MRO. "Lots of milestones – first district competition, standing on the other side of the fence at the provincial competition, and then the IMRC (International Mines Rescue Competition) was exciting."
Mine Rescue Officer Mike Krell, centre, gives a lesson in knots to volunteers Mark O'Connor, left, and Marvin Spencer, right, at Wesdome's Eagle River Mine.
"I think everything I expected to happen happened – the training, competitions, meeting new people. I knew that had to happen, and it was exciting," says Rulli, who joined Ontario Mine Rescue as a volunteer a dozen years ago at CGC's Hagersville Mine.
Also in the Next Generation are Jason Leger, in Timmins District, and Shawn Shail, in Kirkland District, who were hired in January, while three more positions are scheduled to be filled in 2017, as retirements and service growth change Ontario Mine Rescue.
Krell, MRO for Thunder Bay/Algoma, is no less effusive than Rulli about his first year. His first provincial competition as an MRO "was really eye opening," and the IMRC was special.
"I really enjoy the job. Getting to do something I like every day is really something," says Krell, who credits the mine rescue volunteers in Thunder Bay/Algoma with an easy adjustment.
"It's a good group of guys in this district," says the former volunteer with Wesdome's Eagle River Mine, who saw "the same type of culture in the other districts" during his travels while training.
Both Mine Rescue Officers rely on the support of more experienced volunteers.
"They might not be as current on things as I am, because they no longer compete, but I draw on them and their experience during training," says Krell.
"I recognize them as mentors, not only to me, but the rest of the volunteers I'm trying to train," says Rulli. "They have tribal knowledge that should be passed along."
Ensuring that volunteers get the required training hours has been a common challenge.
"It's hard to make sure everyone gets the training," says Krell, especially when the lesson requires extra preparation, such as working in smoke or using the rock splitter. A close working relationship with an operation's mine rescue co-ordinator is key.
"Training, at times, seems to take a backseat to production," says Rulli. "It can be a challenge to keep mine rescue at the top of the list," not just the training, but maintaining the roster.
While Rulli also finds keeping up with Ontario Mine Rescue's "paperwork" a challenge, for Krell it's the extra hours required to travel the distances between the mines in his district, which makes scheduling "manageable but difficult."
The appointment of a new MRO, based in Thunder Bay, to help serve Red Lake and Thunder Bay/Algoma districts should ease the situation, he says.
Nonetheless, he and Rulli are looking forward to their second year and years beyond.
"I was really nervous last year when it came to competition training," says Krell, who trained teams for the district event, but not the provincial.
"Lac des Iles won the district, so Duane (Croswell) trained them. So I'm still looking forward to do that."
This year Rulli will be the host MRO for the Provincial Mine Rescue Competition, scheduled to be held at Compass Mineral's Goderich Mine.
"We're looking forward to that," he said. In fact, "all the (southern district) mines are interested in (hosting) that" so there's a lot to look forward to.
"I was really impressed by the (mine rescue) staff. It's a great group of guys, very knowledgeable and easy to get along with," says Krell. "We all share the same passion for mine rescue.".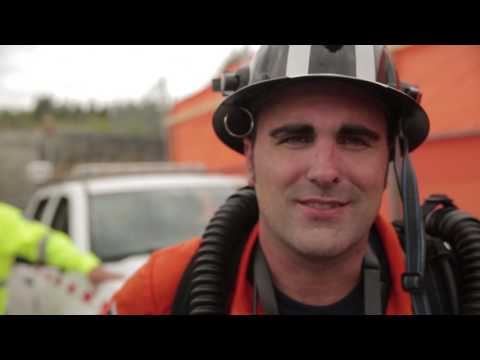 Ontario Mine Rescue Team Best in the World
Mine rescuers from Kirkland Lake Gold were crowned world champions by Workplace Safety North and Ontario Mine Rescue as the overall winners of the 10th International Mines Rescue Competition (IMRC2016-Canada) at the closing ceremonies in Sudbury August 26.
Kirkland Lake Gold
During the competition August 19 to 25, 27 mine rescue teams from 13 nations around the world were evaluated on their firefighting skills, first aid response, high angle rope rescue skills, use of emergency equipment, and decision-making ability under stress in a simulated underground emergency.
The international competition, held for the first time in Canada, is organized every two years to provide an opportunity for mine rescue organizations to share and improve mine rescue knowledge and practices through global cooperation. Previous IMRCs have been held around the world including Europe, Asia and Australia.
The Kirkland Lake, Ontario, team of Terry McKnight, Jonathan Boutin, Hubert Gour, Alex Thompson, Norm Gannon Jr., Jason Dicaire, Ben Young, Lynne Thompson, and Scott Gillett, became the first Canadian team to win the event.
Ireland's Boliden Tara Mines finished second, while the KGHM White Eagles, of Poland finished third in the overall competition.
Kirkland Lake also won the Underground Emergency Simulation event, beating second-place Compass Minerals Goderich Mine, this year's Ontario Mine Rescue champion, and Boliden Tara Mines in third.
During the underground emergency scenario five-member teams had to build a wall in a smoke-filled, heated environment to change mine ventilation due to a fire, and find two missing miners. One of the miners was found impaled on a length of rebar, further challenging teams' first aid skills.
Compass Minerals Goderich Mine won the Theory event in which team members are tested on their knowledge of mine gases, firefighting, and emergency response activities.
Two other Canadian teams also earned honours. Cameco McArthur River from Saskatchewan placed second in the high angle rope rescue event, and third in the firefighting and first aid events. Hometown favourites, Vale's Sudbury West Mines placed third in high angle rope rescue and theory events.
For final results, visit IMRC2016.ca
For photos, visit: IMRC2016 Photos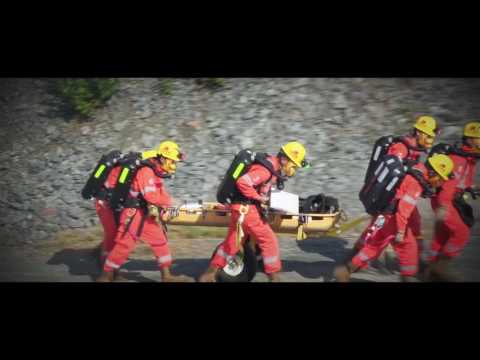 About Us
Ontario Mine Rescue, a part of Workplace Safety North (WSN), has trained and equipped thousands of volunteers who have fought fires, rescued injured personnel, and responded professionally to a wide array of incidents in the province's mines over the past eight decades.
Under the authority of the Occupational Health and Safety Act and headquartered in Sudbury, Ontario Mine Rescue staffs, equips and maintains a network of mine rescue stations across the province that ensure mines within a specified geographic area have adequate emergency response capability.
Our role includes delivering training to first responders, providing consultations, conducting periodic audits, ensuring WSN-owned equipment is maintained to manufacturers' recommended standards, and providing advice during mine emergencies.
Since its creation in 1929, Ontario Mine Rescue has established a reputation for high standards in training, equipment and emergency response, as well as in the development of safe, effective mine rescue practices. We have served as a role model for the establishment of training and safety programs for mine rescue organizations in other provinces and countries.
WSN maintains a Mine Rescue Technical Advisory Committee (TAC) that provides advice and guidance to Ontario Mine Rescue. Under the leadership of the committee, we remain committed to continual improvement, ensuring the mining industry's mine rescue needs are met.