Ontario Mine Rescue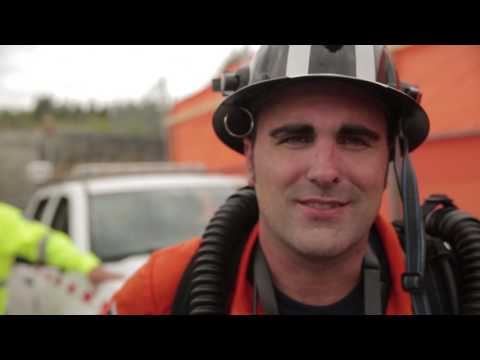 Ontario Mine Rescue Team Best in the World
Mine rescuers from Kirkland Lake Gold were crowned world champions by Workplace Safety North and Ontario Mine Rescue as the overall winners of the 10th International Mines Rescue Competition (IMRC2016-Canada) at the closing ceremonies in Sudbury August 26.
Kirkland Lake Gold
During the competition August 19 to 25, 27 mine rescue teams from 13 nations around the world were evaluated on their firefighting skills, first aid response, high angle rope rescue skills, use of emergency equipment, and decision-making ability under stress in a simulated underground emergency.
The international competition, held for the first time in Canada, is organized every two years to provide an opportunity for mine rescue organizations to share and improve mine rescue knowledge and practices through global cooperation. Previous IMRCs have been held around the world including Europe, Asia and Australia.
The Kirkland Lake, Ontario, team of Terry McKnight, Jonathan Boutin, Hubert Gour, Alex Thompson, Norm Gannon Jr., Jason Dicaire, Ben Young, Lynne Thompson, and Scott Gillett, became the first Canadian team to win the event.
Ireland's Boliden Tara Mines finished second, while the KGHM White Eagles, of Poland finished third in the overall competition.
Kirkland Lake also won the Underground Emergency Simulation event, beating second-place Compass Minerals Goderich Mine, this year's Ontario Mine Rescue champion, and Boliden Tara Mines in third.
During the underground emergency scenario five-member teams had to build a wall in a smoke-filled, heated environment to change mine ventilation due to a fire, and find two missing miners. One of the miners was found impaled on a length of rebar, further challenging teams' first aid skills.
Compass Minerals Goderich Mine won the Theory event in which team members are tested on their knowledge of mine gases, firefighting, and emergency response activities.
Two other Canadian teams also earned honours. Cameco McArthur River from Saskatchewan placed second in the high angle rope rescue event, and third in the firefighting and first aid events. Hometown favourites, Vale's Sudbury West Mines placed third in high angle rope rescue and theory events.
For final results, visit IMRC2016.ca
For photos, visit: IMRC2016 Photos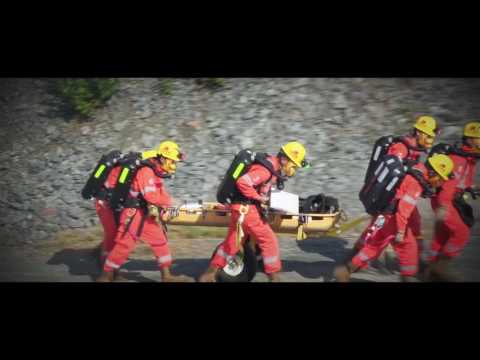 Compass Minerals Team Tops Provincial Competition
Mine rescue volunteers from Compass Minerals Goderich Mine were crowned with gold hard hats by Ontario Mine Rescue, a part of Workplace Safety North (WSN), as the overall winners of the 67th annual Provincial Mine Rescue Competition in Sudbury, June 9 and 10.
Back row: Jim Ahrens – Captain, Matt VandenHeuvel – Vice-captain, Chris Lammerant #2, Drew Anderson – Briefing Officer
Front row: Jack Miller #6, Aaron Duckworth #7, Dennis Hogan #3 (missing Joel Paquette #4)
The Compass Minerals mine rescue team consisted of: Captain Jim Ahrens, Briefing Officer Drew Anderson, Matt VandenHeuvel, Chris Lammerant, Jack Miller, Aaron Duckworth, Dennis Hogan, and Joel Paquette. The team won the Southern District competition in Goderich in May.
The team also won the Team First Aid Award, and by winning the overall competition earned a guaranteed entry into the 2016 International Mines Rescue Competition (www.IMRC2016.ca) to be held in Sudbury in August.
During this week's event, seven teams from across Ontario, selected in district competitions, were evaluated on their knowledge, firefighting skills, first aid response, use of emergency equipment and decision-making ability under stress in simulated underground emergencies at the NORCAT Underground Centre (formerly Fecunis Mine) in Levack, near Sudbury.
Jason Leclair, mine rescue technician for Barrick Gold, Hemlo Operations, won the award for top technician. Leclair won the Thunder Bay/Algoma District competition in May.
In the closing banquet, two mine rescue volunteers: Dick Shoemaker and Calvin Martin, both from Compass Minerals, Goderich Mine were honoured for 30 years of service to Ontario Mine Rescue.
Mine rescue team members, the backbone of Ontario Mine Rescue, are volunteer mine workers trained by Mine Rescue Officers to respond to all types of mine emergencies including fires, explosions and falls of ground.
During the two-day exercise the teams had to find three missing miners underground, providing first aid to two; extinguish an underground fire; and using emergency extrication equipment rescue and provide first aid to a worker trapped in a vehicle on surface.
Competing mine rescue teams represented Compass Mineral, Goderich Mine (Southern District); Goldcorp Canada, Red Lake Gold Mine (Red Lake District); North American Palladium, Lac des Iles Mine (Thunder Bay/Algoma District); Lake Shore Gold (Timmins District); Alamos Gold Ltd.'s Young-Davidson Mine (Kirkland Lake District); Glencore Sudbury INO, (Onaping District); and Vale Canada Ltd., West Mines (Sudbury District).
Awards presented:
First overall – Compass Minerals, Goderich Mine
Overall runnerup – Lake Shore Gold
Technician
1st - Jason Leclair, Barrick Gold, Hemlo Operations
2nd - Drew Dalgleish, Compass Minerals, Goderich Mine
3rd - Brian Melis, KGHM
Team Firefighting – Vale Canada, West Mines
Team First Aid – Compass Minerals, Goderich Mine
John Guthrie Award (Team Special Equipment) – Glencore Sudbury INO.
This year's competition is co-hosted by: Vale Canada Ltd., Glencore's Sudbury Integrated Nickel Operation, and KGHM. The event is sponsored by: Drager Safety; Fountain Tire; NORCAT; Day Group; Northern Medical Supply; Code 4 Fire and Rescue; Lake Shore Gold; Technica Mining; Zetec; SPI Health and Safety; Dumas Contracting Ltd.; DMC Mining Services; MSA; Acklands Grainger; Levitt Safety; Honeywell; North American Palladium - Lac des Iles Mine; Vallen; Pelican Products Inc.; Rocvent Inc.; Interconcrete Ltd.; and Miller Technology.
About Us
Ontario Mine Rescue, a part of Workplace Safety North (WSN), has trained and equipped thousands of volunteers who have fought fires, rescued injured personnel, and responded professionally to a wide array of incidents in the province's mines over the past eight decades.
Under the authority of the Occupational Health and Safety Act and headquartered in Sudbury, Ontario Mine Rescue staffs, equips and maintains a network of mine rescue stations across the province that ensure mines within a specified geographic area have adequate emergency response capability.
Our role includes delivering training to first responders, providing consultations, conducting periodic audits, ensuring WSN-owned equipment is maintained to manufacturers' recommended standards, and providing advice during mine emergencies.
Since its creation in 1929, Ontario Mine Rescue has established a reputation for high standards in training, equipment and emergency response, as well as in the development of safe, effective mine rescue practices. We have served as a role model for the establishment of training and safety programs for mine rescue organizations in other provinces and countries.
WSN maintains a Mine Rescue Technical Advisory Committee (TAC) that provides advice and guidance to Ontario Mine Rescue. Under the leadership of the committee, we remain committed to continual improvement, ensuring the mining industry's mine rescue needs are met.