Sponsorship
Timmins Health and Safety Conference - September 18, 2019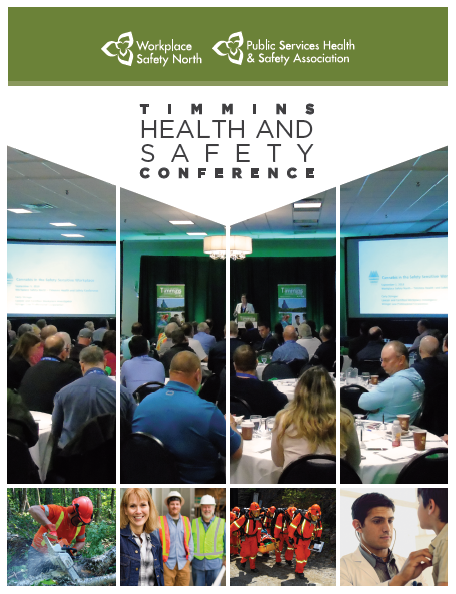 The annual Timmins Health and Safety Conference hosted by Workplace Safety North (WSN) and Public Services Health and Safety Association (PSHSA), will be held at the Senator Hotel and Conference Centre in Timmins on September 18, 2019.
Sponsoring the Timmins Health and Safety Conference gives your organization the opportunity to showcase its products and services, while aligning itself with the values of health and safety. The conference is expected to welcome over 200 delegates from diverse industries to share knowledge about trending health and safety topics to make workplaces safer.
Sponsors are a valued part of this event, and WSN and PSHSA make every effort to ensure sponsors receive maximum exposure and recognition before, during and after the event. Sponsors can choose from three different levels of sponsorship: Silver, Gold and Platinum. 
Thank you to our sponsors:
Keynote Sponsor
Newmont Goldcorp
Colonel William Boyce Thompson founded the Newmont Company in 1916 as a holding company for private acquisitions in oil and gas, mining and minerals enterprises. Thompson named the company "Newmont" because, as one biographer described it, "he grew up in Montana and made his money in New York."
Publicly traded on the New York Stock Exchange (NYSE) since 1940, Newmont Goldcorp has spent about century primarily in the natural resources industry, mining gold, copper, silver, lead, zinc, lithium, uranium, coal, nickel and aggregates, and even developing oil and gas. Today, Newmont Goldcorp is the world's leading gold company as measured by assets, prospects and people. Newmont Goldcorp has actively operating mines in nine countries across the globe.
As one of a relatively small number of companies that have been listed on the NYSE since 1940, Newmont Goldcorp continues to create value and opportunities for our shareholders, employees and host communities.
We invite you to read more about our diverse and storied past and the remarkable foundation upon which our company was built.
Platinum Sponsors
Alex MacIntyre Mining
Started by the late F.A. MacIntyre in 1958, later evolving into Alex MacIntyre & Associates Ltd., the company has earned and maintained a reputation for tackling and successfully completing some of Canada's more difficult mining projects throughout its storied history. As Canada's oldest mining contractor, Alex MacIntyre & Associates Ltd. have been supplying mine contracting services to the mining industry for over 60 years. With head office, CWB certified shops and equipment yards located in Kirkland Lake, Ontario, MacIntyre has successfully completed shaft sinking and mine development contracts throughout Canada, the United States and South America. Mining clients in recent years include: Vale, De Beers, Barrick Gold, Kinross Gold, Agnico Eagle, Hudson Bay Mining & Smelting, Canadian Malartic, and Kirkland Lake Gold. Alex MacIntyre and Associates Ltd is a uniquely diverse Mining Contractor as it provides services in all areas of mining. From shaft sinking, mine development and production, mine construction, electrical and mechanical installations, mechanized raise mining, mine dewatering and rehabilitation to mine closures, MacIntyre has the safety, experience and expertise to help your project be successful.
Redpath Canada
In 1962, Jim Redpath's vision for the company was much the same as it is today; offering a high level of service to the mining industry, which exceeds current standards and provides challenge for its employees. With a foundation built on global experience, adaptability and exceptional workmanship, Redpath leads the industry with cutting edge innovations in safety and mining practices.
Services including underground construction, shaft sinking, raiseboring, mine contracting, raise mining, mine development, engineering and technical services and a variety of specialty services are offered around the world, with the expertise and qualifications in place to support any scope of work. Global experience has given Redpath expansive regulatory knowledge, regional expertise and cultural sensitivity.
Redpath has built a solid reputation for conquering tough challenges and adapting to a variety of environments. Redpath's employees are the heart of the company's success and it remains through them that the company will continue to expand and flourish.
Timmins Financial
Timmins Financial is a leading financial services firm based in Timmins, Ontario. It is the culmination of a business started by Claude Gervais nearly 30 years ago. We are pleased to continue this legacy of integrity and sound financial advice that has served many clients so well for decades. Where else can you get a team of advisors who will be there throughout your retirement backed by so much experience? At Timmins Financial, you don't have to choose. Both are at your disposal.
Timmins Financial is proud to offer you products and services such as: Insurance, Investments, Group Benefits, Pension Plans and much more.
WSIB
We're here to help. When an injury or illness happens on the job, we move quickly to provide wage-loss benefits, medical coverage and support to help people get back to work. Funded by businesses, we also provide no-fault collective liability insurance and access to industry-specific health and safety information.
We are one of the largest insurance organizations in North America covering over five million people in more than 300,000 workplaces across Ontario.
Gold Sponsors
De Beers Group
Since 1888, De Beers Group has been involved in all aspects of the diamond business. From its mining operations across Africa, and most recently Canada, the company produces about 35 per cent of the world's supply of rough diamonds.
De Beers Group has been active in Canada for more than 50 years, growing from a small group of geologists in the field to having multiple offices and operations across the country. The company has two producing mines, a mine on extended care and maintenance, an advanced exploration project on Baffin Island, and a targeted exploration strategy within Canada.
City of Timmins
Located in Northeastern Ontario in one of the richest mineral producing areas in the Western Hemisphere, the City of Timmins, nestled along the Mattagami River, is the second largest community in Canada and a destination of choice for many in search of a unique vacation experience.
Our municipality owes its existence to the initiative and efforts of prospectors by the names of Harry Preston, Sandy McIntyre and Benny Hollinger, who in the early 1900's discovered gold. Financiers Noah and Henry Timmins were responsible for the development of the Hollinger Mine and, thus, the name Timmins came to the forefront and has been our proud designation ever since.
Amid the untamed wilderness that surrounds us, Timmins' cosmopolitan flair offers something for even the most discriminating taste; a top rated symphony orchestra, choirs, theater groups, an ultra modern public library and the Timmins Museum National Exhibition Centre. A recent recipient of the Festivals & Events Municipality of the year, Timmins boasts several festivals & events, among them Snowcross, Fall Fair, the Great Canadian Kayak Challenge & Festival, Rock on the River, Summer Concert Series, the Big Event, Urban Park, the Mushkegowuk Cup, and the ever popular Stars & Thunder Music Festival and International Fireworks Competition.
Building on its solid, industrial foundation, the City of Timmins offers a variety of natural, cultural and recreational diversions. We are a growing community that welcomes your business and presents ample opportunities.
EACOM Timber
EACOM Timber Corporation is a major Canadian wood products company. Operations include the manufacturing, marketing, and distribution of lumber and wood-based value-added products, and the management of forest resources. EACOM owns seven sawmills, a remanufacturing facility, and an engineered I-joist plant with over 1,200 employees. The Company is committed to investing in strong assets, including healthy forests, advanced technology, and talented people. Visit our website at www.EACOM.ca and follow us on Twitter @EACOMTimberCo.
Imerys
Imerys Talc Canada, is part of the Imerys Performance Additives group which is a division of Imerys, the world leader in mineral specialties for industry. Combining high-quality mineral resources with advanced industrial know-how and technologies, Imerys designs, manufactures and sells mineral-based specialties that enable its customers to improve product performance and process efficiency. Today, the Imerys brand continues to represent the highest quality mineral products on the market. Imerys Talc Canada employs 68 people and operates the Penhorwood Mine and Mill Concentrator, Foleyet Rail Load-out facility and the Timmins Micronizing Mill sites. Talc is a hydrated magnesium silicate. There are many types of talc and each ore body has its own features, its own geology, formed many millions of years ago. As a natural ore, talc is always found in combination with at least one other mineral and is used in applications such as coating, plastics, ceramics, automotive, wood plastics, food packaging and more.
Ontario Power Generation
Ontario Power Generation produces about half of the electricity Ontarians rely on every day. Our power is clean, reliable and costs an average of 40% less than other generators. With operations that span the province from Cornwall to Kenora, we value the safety and health of our communities and 9,000+ employees above all else. Explore OPG's diverse generating fleet which includes century-old hydro stations and some of the world's best run nuclear stations.
Tahoe Resources (Pan American Silver)
Silver Sponsors
Day Group Construction
Day Group offers a wide range of services to meet client needs around Northern Ontario. Whether it be transportation of ore, complex loads and food, rail services, crushing and screening, road construction and maintenance, pipe fusing, waste disposal, spill remediation, and aerial drone surveying, we can help with any task, large or small. Our high standard of safety and training ensures that the client will be satisfied with our services and products as well our employee health and wellness needs are met. We strive to make every day a safeDAY!  
DMC Mining
Through innovation and technology driven mining solutions we build tomorrow's mines. DMC Mining Services is a mining service specialist that has been servicing the mining industry with excellence for over 30 years. We have one of the lowest incident and accident frequency rates in the industry and our reputation has been established through our track record of efficiency, technical excellence and innovative solutions. Through our determination, hard work and relentless pursuit of excellence, we have stamped our mark on mining projects across the world. Building on our successes and the continued forging of partnerships, we are committed to helping our clients build tomorrow's mines.
Dumas
Dumas Contracting Ltd. is a leading, full-service underground mining contractor, providing services to clients throughout the Americas. Dumas is headquartered in Toronto, Ontario, Canada with numerous active projects and offices across Canada, the USA, Mexico and Guatemala. Over the years, Dumas has completed over 650 projects for over 40 clients across 10 countries, and employed over 8,000 people.
Dumas provides concept to completion underground mining services and are fully integrated with other activities being performed by mine owners and other contractors on project sites.  Project services include mine development, production, infrastructure and general construction projections. Dumas has the capability to perform virtually any service underground from large-scale vertical shaft sinking projects to a complete production mining operation.
With a goal of Zero Harm, we offer a world class health and safety training program and are a leader in emergency preparedness. Dumas is the winner of six safety awards over the past several years. We are committed to the health and safety of all our employees, and to providing superior health and safety performance to our clients.
Dräger 
"Technology for Life" is the guiding philosophy. Whether in clinical applications, industry, mining or fire and emergency services, Dräger products protect, support and save lives.
The current portfolio comprises stationary and mobile gas detection systems, respiratory protection equipment, fire training systems, as well as alcohol and drug detection units.
Reliable protection for miners and rescue teams.  Using the patented DrägerSensors®, a full range of portable gas detectors measures and warns against toxic gases. Respiratory filters provide reliable protection against particles and dust. Personal protective equipment and closed circuit breathing apparatus are available for every type of rescue operation. Escape and rescue chambers provide safe haven underground until a hazardous situation is resolved. In addition to providing state-of-the-art products, Dräger offers comprehensive training and education programs to help support safety in mining operations. 
Dräger has about 11,300 employees worldwide and is currently present in more than 190 countries. The company has sales and service subsidiaries in over 40 countries. Draeger Safety Canada, Ltd., its Canadian based subsidiary, has been headquartered in Ontario since 1988. Additional technical service centers are located across the country along with an engineering facility in Kingston for the development and installation of customized safety solutions.
Tisdale Mechanical Contracting / East End Construction
Over 60 years ago, Tisdale Plumbing and Heating opened its doors as a plumbing company. Our family owned company has built a business that has focused on providing exceptional customer service. We have expanded our service departments to include heating, air conditioning, refrigeration, sheet metal, appliance, and electrical services, in order to ensure that we have continued to meet this goal. Exceptional customer service remains our company's number one priority.
Our mission is to provide quality mechanical, plumbing, sheet metal, and electrical services that are carried out in accordance with all applicable laws and regulations. Our company strives to inform and educate our clients on products and services that provide solutions to improve indoor air quality, lower energy costs, and increase equipment performance goals.